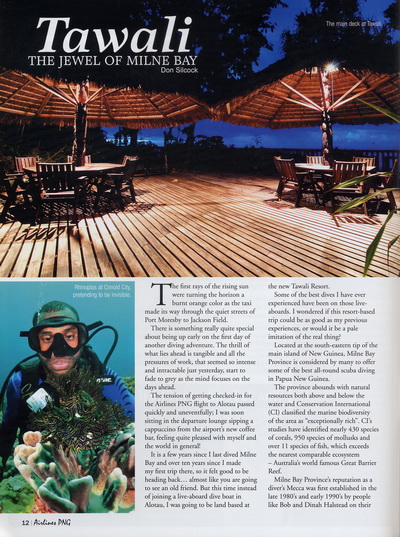 Milne Bay Province was where liveaboard diving was pioneered in Papua New Guinea.
It's a big area and the dive sites are scattered around the bay itself and on the north & southeast coasts.
Which means the liveaboard boats have a veritable smorgasbord of locations to take visiting divers!
So is there room for a land based operation and would the diving match the overall quality of Milne Bay?
Several attempts had been made over the years, but all based in the provincial capital and too far for a day boat from most of the best dive sites.
At the end of 2008 I spent 2 weeks at Tawali, the new dive resort established on the remote north coast of Milne Bay by Rob van der Loos.
Rob is one of the pioneers of liveaboard diving in the area, and his business partner Bob Hollis the founder & CEO of Oceanic the diving equipment manufacturer.
This is first of three articles I had published on Tawali and the diving on the north coast and was published in the Airlines PNG in-flight magazine Our Way.