The Australian Great White… Australia is a country seemingly full of all sorts of dangerous creatures – both on land and below the surface. But the Australian Great White Shark inspires more fear and loathing than just about any other animal down-under.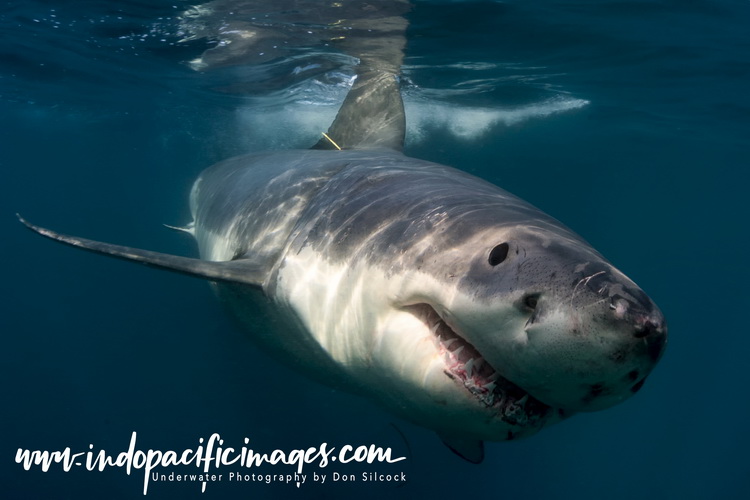 Referred to locally as White Pointers. That intense reaction is because when a Great White does attack a swimmer, surfer, spear-fisher or a diver the result can be horrendous. Often ending in a gruesome death for the victim. So the fear side of the equation is very easy to understand!
The Australian Great White – The Tabloid Media…

However, the loathing part is much more nuanced. And largely results from the way the Australian tabloid media treat these attacks.
Any shark related event is big news…
So, an actual attack is guaranteed to make the front page and lead the nightly "news" on television.
Why? Because a shark attack provides an instant boost in circulation. While a horrific one, where a death is involved, produces a huge spike in ratings.
A good example of this is the report by the Australian tabloid the Daily Telegraph on the tragic loss of Japanese surfer Tadashi Nakahara at Shelly Beach in Ballina.
Nakahara's death received the full treatment. Complete with references to "MONSTER" sharks and the need for shark nets!
It's no secret that Peter Benchley's 1974 seminal novel Jaws, together with the subsequent Steven Spielberg movie, were largely responsible for establishing the bad reputation.
But the sensationalist treatment of shark attacks by the news media has reinforced it.
And the many television "documentaries" made about them (which usually aim to scare rather than educate the viewer), has firmly entrenched the overall perception.
Overall, it is nothing more than cheap-shots "journalism" with no attempt to understand the situation.
The Australian Great White – The Facts
The reality however is significantly different… And the Australian Shark Attack File data compiled by Sydney's Taronga Zoo provides a much clearer picture.
2015 was a "bad year" with 22 confirmed cases of unprovoked shark attacks in Australia. Compared to 11 such encounters in 2014 and significantly above the decadal average of 13.
Of those 22 attacks in 2015, 1 was fatal and 14 resulted in injuries. And of those 14, 10 were classified as "severe", meaning the victim was bitten. To put those numbers in perspective on average 8 rock fishermen drown and 23 scuba-divers die each year in Australia.
So, given the approximately 100m "visitations" that Surf Life Saving Australia estimate take place in our waters each year by swimmers, surfers and divers. The reality is that the risk of being a victim of a shark attack is well over 50m to 1…
Even then, the chances of actually being attacked by an Australian Great White are remote. Because the data from Taronga Zoo indicates that most attacks are from Bull Sharks. But data like that does not sell newspapers or make the evening news!