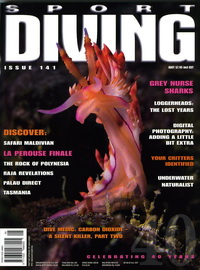 The Australian Grey Nurse Shark is a large and distinctive animal that has suffered greatly from the widely held perception that is a man-eater and is now one of the most critically endangered species in the country.
Now protected in Australia its slow rate of reproduction means that the Australian Grey Nurse Shark is fighting what is quite possibly a losing battle to restore its numbers to anywhere near what they used to be just 40 years ago.
This article documents the persecution, protection and conservation plus diving with Grey Nurse Sharks in Australia and was published in SportDiving.