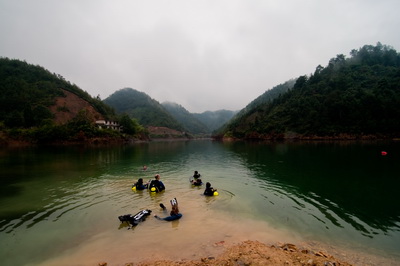 Once home to more than 200,000 people, Lion City is now  submerged some 30m below the surface of Qian Dao lake in south-west China.
I heard about the 1800 year old city back in 2008 while I was living in Shanghai on an 18 month work assignment and the thought of diving it intrigued me.
I had stumbled on the local Shanghai diving community quite by accident and was surprised to discover that there are actually several dive shops in the city of over 20m people.
But they all seem to exist solely to train expats and then  take them on trips outside of China, as there is literally nowhere to dive around the city or along the nearby coastline because of the scourge of pollution.
Then I heard about Leigh Chan and Big Blue Diving and the trips he runs to Qian Dao Lake some 5 hours south-west of Shanghai in Zhejiang Province. After several phone calls I resolved to bring back my cold water diving gear and underwater photography equipment from Sydney on my next trip home.
I can honestly say that the trip to Qian Dao was one of the most memorable I have ever done, but not for the actual reasons I went on it…
The story has just been published in X-Ray magazine and you can download the full article on this LINK.