Diving PNG's B17 Black Jack Wreck… Sitting serenely in 50m of clear blue water is what many consider to be the best aircraft wreck in PNG. The B17 Black Jack Flying Fortress bomber is almost completely intact and is an amazing site to behold. Hence the huge plane looks like it belongs on a Hollywood film set!
Black Jack's final resting place is just off from the small beach-side village of Boga Boga. Which is located at the tip of Cape Vogel near Collingwood Bay on the north east coast of New Guinea island.
Discovered in 1986 by Australians Rod Pearce, Bruce Johnson and David Pennefather. Hence the wreck was basically stumbled upon during a dedicated expedition organized by Pennefather after being told by the villagers of Boga Boga that a plane had crashed near the reef during WWII.
They had no idea that the wreck was a huge B17. Believing that the wreck was probably an Australian Beaufort A9. As a result of one being reported as having crash landrd in the area of Collingwood Bay during the PNG campaign in WWII.
The discovery of Black Jack is a great story in itself. While the subsequent one about how the original pilot Ralph De Loach was tracked down in Marina del Ray in California. And then brought all the way back to Boga Boga village is an even better one!
Diving PNG's B17 Black Jack Wreck – X-Ray Article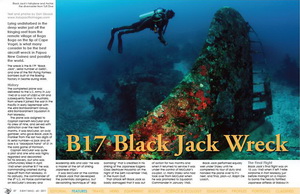 The global dive magazine X-Ray recently published a comprehensive article of mine on Black Jack.
The article explains the history of Black Jack, its discovery and Ralph De Loach's return to Boga Boga village!
You can download the complete Diving PNG's B17 Black Jack Wreck article on the link provided.