There are two things you really need to know about diving the east coast of Bali with the first, and certainly the most important, being that the area is subject to some of the strongest currents you are ever likely to experience!
The second being that the water temperatures can get down to as low as 18 deg C (64 deg F), so a 5mm wetsuit is highly recommended…
The Strait between the east coast of Bali and the neighboring island of Lombok is one the the main exit points for the Indonesian Throughflow as it exits the vast archipelago of 17,000+ islands that make up the country of Indonesia.
In the middle of the Lombok Strait are the islands of Nusa Penida and Nusa Lembongen, and their land mass separates the vast volume of water through the Strait into two main flows – with one heading straight south in to the Indian Ocean, and the other directed west between Nusa Lembongen and the east coast of Bali.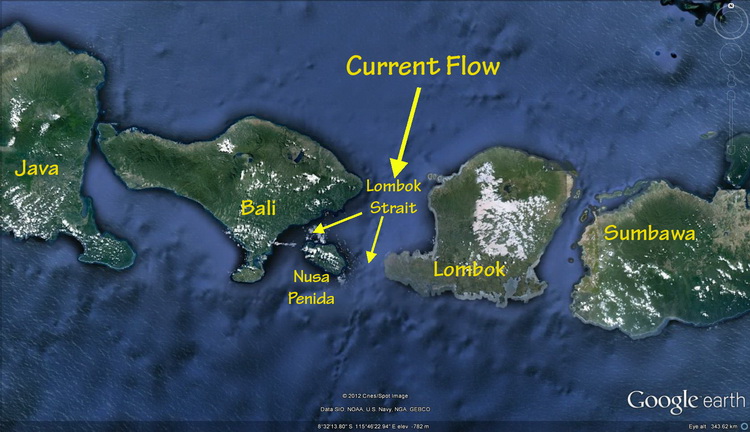 Map of the current flows through the Lombok Strait
So powerful are these currents that many Bali operators are very reluctant to take divers to some of the sites, such as at the Canyon at Gili Tepekong, because it's just too risky.
But a good guide, with experience of reading the current patterns and a knowledge of the very complex tides in Bali, can get you on these sites when the conditions are safe to be there.