A Dampier Strait signature dive site that should not be missed are the two jetties on the small island of Airborek.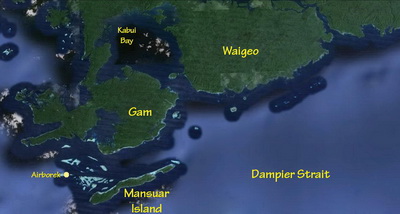 The island, which gets its name from a type of fruit that grows on it, is located at the western end of the Strait where it enters the Halmahera Sea.
It is a long thin island that runs east to west, with a large fringing reef and it sits right in the path of the Dampier Straits currents which split around the island at its eastern point and flow strongly around it's sides.
On the northern side of the island are two quite large wooden jetties just in front of the small village, and the rich waters of the Strait swirl around them creating a mini-ecosystem on the wooden structures.
Rich patches of vibrant soft corals have grown on the vertical piles of the jetty and resident schools of jacks and batfish patrol in between.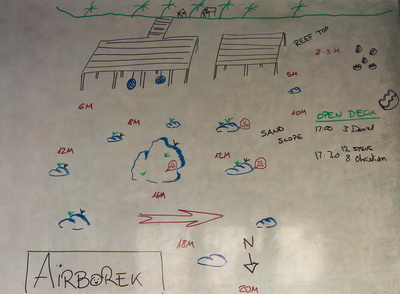 The result is a tremendous location for both wide-angle and macro photography with the jetty and soft corals creating a very photogenic back-drop for the schooling fish.
While down in the coral rubble on the slope around the jetties you will find jawfish, pipefish and other critters.
Further down around 18m are several bommies which are home to some schooling sweetlips and numerous critters.
Late afternoon on a calm day produces a perfect setting for wide-angle photography as the sun's rays stream down through the gaps in the jetty decking and add another layer to its photogenic properties!
Then if you tire of that, the local kids make excellent models as they swim down to pose for the camera.
A really great site that should not be missed!
Default Gallery Type Template
This is the default gallery type template, located in:
/home/customer/www/indopacificimages.com/public_html/wp-content/plugins/nextgen-gallery/products/photocrati_nextgen/modules/nextgen_gallery_display/templates/index.php.
If you're seeing this, it's because the gallery type you selected has not provided a template of it's own.
Airborek Photo Gallery