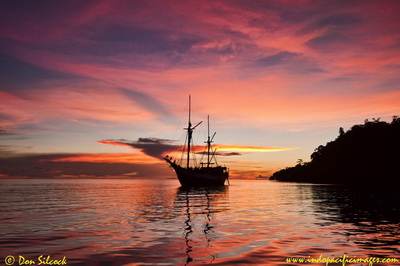 It took me at least 10 milli-seconds to say yes, I'm in!
Taking 5 weeks off from your day job is always a risky thing to do – after all if they can do without you for that long, maybe they don't need you at all…
But it really was a "no-brainer" and I did not hesitate – offers like this just don't come round very often.
My first trip to Raja Ampat was back in 2005 and I had vaciliated for a couple of years before that because of the distances involved and uncertainty about who to go with.
Back then R4, as it is often referred to, was emerging as one of the hottest new diving destinations – but it's a really remote place, tough to get to and I did not want to go to all that trouble without a reasonable indication I was diving with the right people.
Then a friend of mine signed up for a trip on the SMY Ondina run by Dallas based City Seahorse and a name from the past came back to me – Deb Fugitt…
I had read with great admiration Deb's posts on the uw-photo mailing list a few years earlier about the island based dive-camps she was involved with in the days before liveaboard diving was established in Raja Ampat. So here was a chance to dive with somebody who really seemed to know the area and I signed up too.
That trip lead to several others on the Ondina, some with Deb and some direct, and we had kept in touch. So when her email appeared in my inbox last September asking me if I was interested in assisting her with the two 2012 back-to-back Raja Ampat trips I felt like I had won the lottery!
Diving Indonesia: Raja Ampat's Biodiversity
Much has been written about the phenomenal biodiversity of the Raja Ampat area and many superlatives have been used to try and describe it.
All I can really say is that it's true…
Some of the best dives I have ever had have been in Raja Ampat – the sort that you get back on the boat and know why you travel all this way and carry all that stuff!
R4 is in the center of the Coral Triangle, an area that is generally considered to be the global epicenter of marine species diversity, and is characterized by more than 600 species of coral and 3000 species of reef fish.
To put those numbers into perspective – the Red Sea has around 200 coral species & 1000 fish species and the Caribbean 50 & 900 respectively.
Raja Ampat's biodiversity is a direct result of the phenomena of nature referred to as the Indonesian Throughflow, a flow of water so large that special measurements had to be created just to measure it.
The waters of the Throughflow first touch land at Raja Ampat as they make their way south, through the vast archipelago to the Indian Ocean.
The Throughflow brings with it waters rich in nutrients from the deep trenches of the Pacific Ocean to the north and the results are the tremendous biodiversity of the area and probably the richest reefs in the world!
The Indonesian Throughflow is literally the lifeblood of the Indonesian Archipelago and is at it's most potent in Raja Ampat.
Diving Indonesia: Raja Ampat's – The Diving…
Raja Ampat literally has something for everybody.
If critters are your thing, you will find them there – not perhaps in the same intensity as the Lembeh Strait, but more than enough to keep that macro lens busy…
The reefs are simply spectacular and some of the very best that I have ever dived. Throw in the random encounters with mantas and eagle rays, plus schooling barracuda and other pelagics and you can understand why R4 is so popular.
Then there are the special dives like the manta cleaning station Manta Mantra and Airborek Jetty in the Dampier Strait, the Passage in Waigeo and the phenomenal Fiabachet down in Misool and it become obvious that this is one pretty special area of the world.
Raja Ampat Image Gallery
Diving Indonesia: Raja Ampat – Local Knowledge
Two major things that I like about Deb's trips are that she has excellent knowledge of the Raja Ampat area and its diving, plus she brings along her own support staff.
Raja Ampat has some of the most powerful currents you are ever likely to experience, a function of the phenomena of nature referred to as the Indonesian Throughflow.
The key to diving safely and enjoyably in Raja Ampat is an ability to read those currents and most importantly understand at what point in their cycle they are at.
Deb's answer to that requirement is Mikel…
Mikel Merin grew up, and still lives on Dome Island, near Sorong. He has spent his whole life in the area and knows the waters around the Dampier Strait like the back of his hand.
Watching him driving one of the dive tenders is to observe a man in his element as he watches the surface patterns of the water and reads it like a book.
Deb first met Mikel in 1999 and brings him on all of her trips as her "eyes and ears" for the diving conditions and to ensure that all the divers have surface cover while they are underwater.
Bali based Spaniard Norberto Sanchez is the Cruise Director on the City Seahorse trips and Aan Ajib is the lead Divemaster.
Norberto runs his own travel agency Come2Indonesia but dedicates 6 weeks a year to organizing and leading the City Seahorse trips on the SMY Ondina. He is that unique combination of competence, capability, sense of humor and all-round nice guy, while Aan is a tremendous diver with incredible critter spotting skills.
Diving Indonesia: Raja Ampat – The Boat….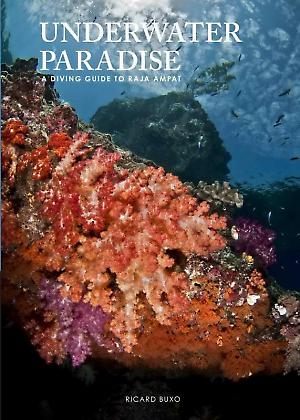 If you are looking for luxury, choose another boat because Ondina is not that kind of liveaboard.
For me, it's what I would call a "diver's boat" and was built from scratch in Makassa by Spanish adventurer Ricard Buxo in 2002. Ricard literally "wrote the book" on Raja Ampat – well one of them that is.
Last year his book Underwater Paradise was released and has become one of the standard guides to Raja Ampat.
Ricard designed Ondina from the ground up for diving – not as a passenger boat that would take divers. He also set up the diving system on the Ondina, based on the experience he gained as a cruise director in the Red Sea, and it works extremely well.
It's easy to take background logistics for granted, but having spent a lot of time on board the Ondina, and clocked up hundreds of dives from it, I can honestly say that Ricard's designs have worked well and stood the test of time.
I have also been on the Ondina in really rough weather – for days on end… The sort of weather where you know exactly where your life-jacket is at any point in time, but the boat took it all in it's stride!
Don't get me wrong… the Ondina is not a downmarket marine version of a backpacker hostel. All the cabins have en-suites and air-conditioning, the food is good and plentiful, the beer is cold, the crew know what they are doing and everything works 99% of the time!
But if you are looking for a spa and a facial – don't bother…
Diving Indonesia: Raja Ampat – The Trusty Assistant!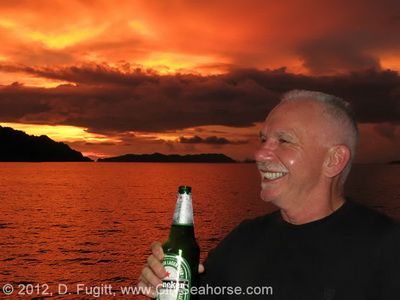 Just in case you are wondering what I did for the four weeks on the boat and nearly another week in Sorong before and in-between trips…
Well I was what we would call in Australia a general dog's body (DGM), which loosely translated means I did all the odd jobs from assisting people with their photography both above and below water, helping them edit their images in Photoshop, organizing the photo competition and taking people shopping in Sorong.
It was very busy, but I loved every minute!
Plus if I did all that I was asked to do I got to indulge (in moderation of course…) in my second favorite hobby of drinking a cold beer at sunset after a great day's diving!
How good is that?