Variously referred to as Manta Mantra, Manta Sandy and 3M this site is both a cleaning station and a reliable source of rich plankton – the principal food source of these marvelous creatures.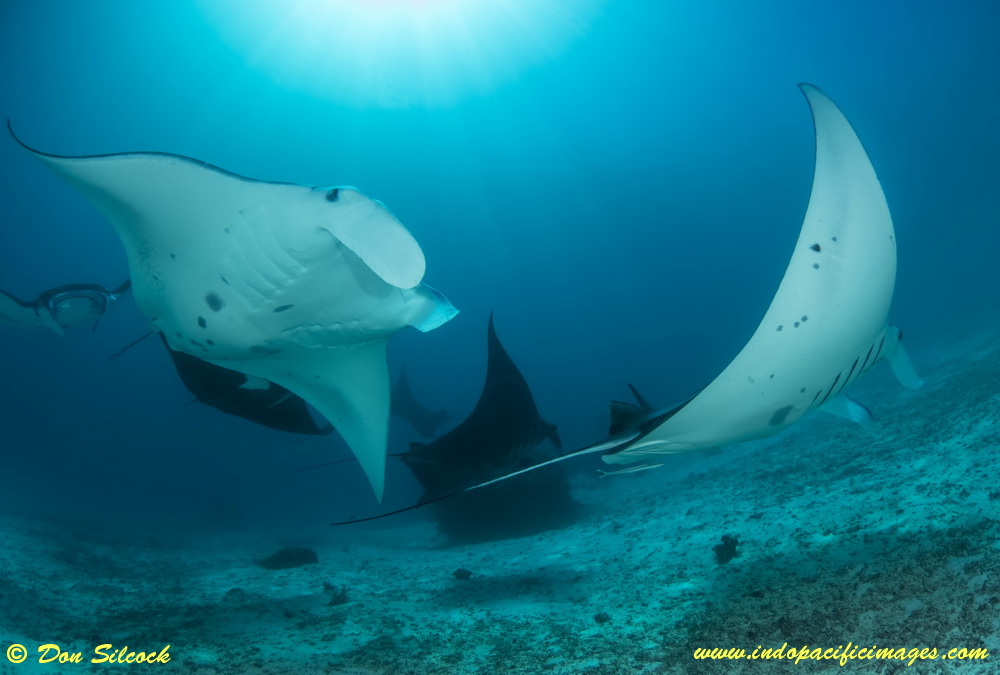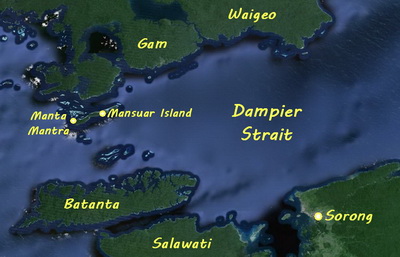 The site is located on the southern side of the large reef that separates Mansuar Island, from the much smaller Airborek Island, at the western end of the Dampier Strait.
The cleaning station is a number of small bommies in the channel between the main reef, and a smaller one to the south.
The strong currents that run through the channel, together with the numerous cleaner wrasse and butterfly fish on the bommies, have created the perfect conditions for mantas to come in and be cleaned of their parasites.
Manta Mantra is probably the most reliable place to see mantas in Raja Ampat and "trains" of them have even been reported there.
Manta trains occur when a female is ready to mate and she can be pursued by as many as 30 males in a single file formation.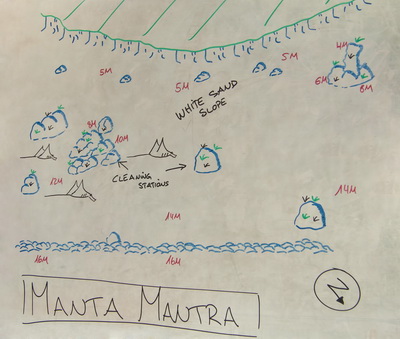 The site is obviously very popular and to ensure the presence of so many divers does not drive away the mantas, a strict demarcation code is enforced by all the operators who visit it.
A line of rocks has been laid out in about 16m of water, close enough to the bommies so that divers can observe and photograph the mantas, but far enough away to allow them to be cleaned in relative peace.
The thing to do at Manta Mantra is get your self in position somewhere along the demarcation line where you can comfortably hold on against the currents and then wait…
The site is fairly shallow and so bottom time is not an issue and as the mantas complete their cleaning rituals they often come and check out the waiting divers with some upfront and personal interactions.
Mantas are intelligent and curious creatures with no real natural enemies, apart from large sharks that have been known to attack from behind in the blind spot.
So the probability is that they will investigate the on-lookers if not hassled, so it really is in your best interests to stay behind that line!
Default Gallery Type Template
This is the default gallery type template, located in:
/home/customer/www/indopacificimages.com/public_html/wp-content/plugins/nextgen-gallery/products/photocrati_nextgen/modules/nextgen_gallery_display/templates/index.php.
If you're seeing this, it's because the gallery type you selected has not provided a template of it's own.
Manta Mantra Photo Gallery