Named after the son of Max Ammer, Mike's Point is actually the eastern tip of the island of Kerupiar, located just off the south-east coast of Gam.
A tale often told about Kerupiar Island is that during WWII it was bombed after being mistakenly identified as a Japanese ship.
The wake of the currents sweeping the island looked like that of a ship and, from the air, the small island looked like a camouflaged warship.
Above the water the damage done by the bombing is still visible, but it's hard to tell underwater as the marine growth is prolific, particularly on the southern side of the shallow plateau where there is a superb hard coral and gorgonian fan garden.
Roughly 30m in diameter the tree covered part of the island that survived WWII is the tip of a much larger underwater structure that rises up from the surrounding seabed at 30-35m.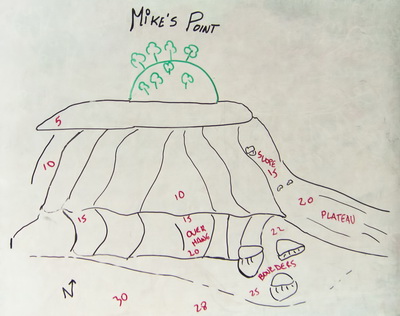 The eastern and southern flanks of the island are where the rich currents of the Dampier Strait have worked their magic and and there is much to see.
The area has been colonized by hard and soft corals, sea whips and anemones, while schools of barracudas, jacks and yellow striped sweet lips are in abundance.
Mike's Point is truly an excellent dive, but it needs to be carefully planned because of the strength of the currents, which can hit warp speed at times creating dangerous downdrafts.
Local knowledge is essential combined with a degree of patience, as you may well have to wait until the current has abated, and the guides feel it is safe to start.
A negative entry to the east of the island is the place to start the dive as the slope and plateau at 20m pumps with life – plan to spend about 1/3 of your dive in that area.
On the south-east corner are some large boulders at 22-25m, which are generally thought to be parts of the island deposited there as a result of the WWII bombing… You will usually find the large schools of fish hanging in the current either there or further west where there is a large overhang in 15-20m and you should spend the second 1/3 of your dive in that general locale.
If you make your way straight upwards from there to the shallow plateau you will find the hard coral and gorgonian fan garden which is a tremendous place to do your safety stop.
Default Gallery Type Template
This is the default gallery type template, located in:
/home/customer/www/indopacificimages.com/public_html/wp-content/plugins/nextgen-gallery/products/photocrati_nextgen/modules/nextgen_gallery_display/templates/index.php.
If you're seeing this, it's because the gallery type you selected has not provided a template of it's own.
Mike's Point Photo Gallery