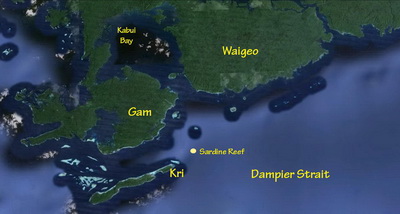 Sardine Reef is located to the north-east of the island of Kri in the Dampier Strait and is one of the very best dives in the area.
The site is a very large underwater pinnacle, which is oval in shape and about 200m long, with a reef top at around 5m and gently sloping sides down to the flat sandy seabed at about 25m.
Its eastern side faces in to the predominant current of the Dampier Strait which can reach tremendous velocities at times.
The current "splits" there and flows both down the northern and southern flanks of the pinnacle and over the top along the reef top.
So again local knowledge combined with a degree of patience and a negative entry are required to dive the site safely.
When the current is pumping the eastern side of Sardine is the place to be as the marine life can be stunning.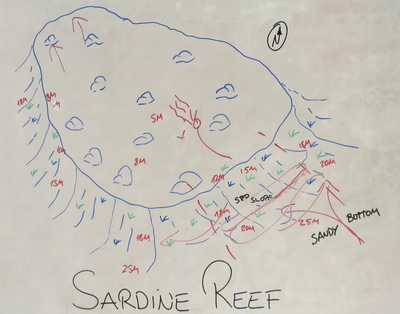 At its best, Sardine has the cycle of hunting and survival on full display before you as the sea's food chain demonstrates its ruthless efficiency.
So dense can the schools of pelagic predators become that "fish thunder" has been reported at Sardine – the thunder is actually the hydraulic phenomena called cavitation which occurs when something exerts a pressure upon a liquid.
Fish thunder occurs when a large body of fish move rapidly because they are being pursued by predators.
Plan to spend the majority of your dive on the eastern flank of Sardine and enjoy the show, then try the southern side with the reef to your right as you work your way up to do your surface stop.
Try to avoid being swept over the top of the reef by the current as your dive will quickly turn in to a very rapid drift because that is where the velocity in at its maximum.
Default Gallery Type Template
This is the default gallery type template, located in:
/home/customer/www/indopacificimages.com/public_html/wp-content/plugins/nextgen-gallery/products/photocrati_nextgen/modules/nextgen_gallery_display/templates/index.php.
If you're seeing this, it's because the gallery type you selected has not provided a template of it's own.
Sardine Reef Photo Gallery