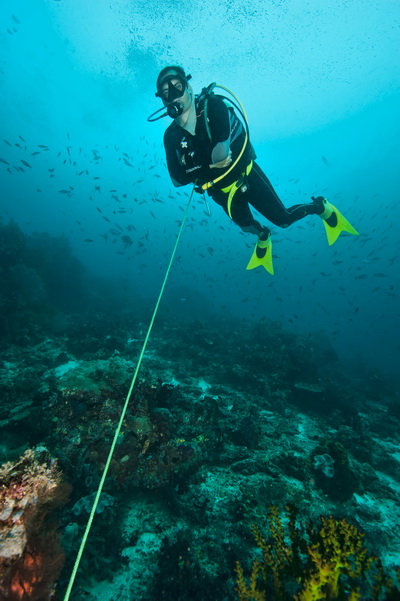 The trick to diving in strong currents around Raja Ampat is to understand the basic mechanism and work with it – because you just can't fight it…
Strong currents are the life-force of vibrant reefs systems and they are at their strongest around the edges and at their most manageable in the center.
Picture a large submerged bommie or pinnacle that rises up from the deep and faces into the predominant current – where that current hits the reef first is where its velocity is low and the deeper you go at that point, the less that velocity will be.
But as the current goes around the sides the velocity increases dramatically and where it goes over the top of the bonnie or pinnacle, particularly if it is shallow, the velocity is at its maximum.
So when you enter the water it should be upcurrent from the bommie and you must get down on the front as quickly as you can, which is the sweet spot where the current is manageable and where the most prolific fish activity is.
Miss the front and you will think you are in a washing machine as the currents sweeps you around or over the top…
A technique used a lot in Raja Ampat is the so-called "negative entry".
What this entails is that one of the divemasters goes down on the site to check out the strength of the current and put a buoy on it.
The buoy is used as a current meter and if it is visible on the surface then the site can be dived with safety, but if the current forces the buoy underwater it's time to find another site!
The negative entry means that all the divers in the dive-tender are fully kitted up and ready to enter the water and all BCD's are completely empty. The dive-tender is then positioned up-current from the buoy and when given the all-clear the divers backward roll into the water at the same time and go straight down to the front of the reef where the current is least.
A safety sausage is an absolute must when diving Raja Ampat, because if you get caught in the current 3 minutes at 5m can take you a long way… So if you do go "over the top, or round the sides" get the sausage out and let the dive-tenders know where you are!
A reef-hook is also something you should have in the pocket of your BCD as it will allow you to hook on to the reef and enjoy the action at the front of the reef. Alternatively if you get caught in the current it will allow you to remain static and regain your composure…