Milne Bay Province Overview. There are actually two Milne Bays… The large bay on the south-eastern tip of Papua New Guinea, centered around the provincial capital of Alotau. Which was a major Allied base during WWII.
Then there is the much larger province of the same name. Milne Bay province stretches out over a huge area covering 270,000 km² – roughly the size of the United Kingdom. However only about 14,000 km² of that area is actually dry land! The rest is taken up by the waters surrounding the 600 islands of the province that fall in to four main groups: The Trobriands, the D'Entrecasteaux Islands, Woodlark Island and the Louisiade Archipelago.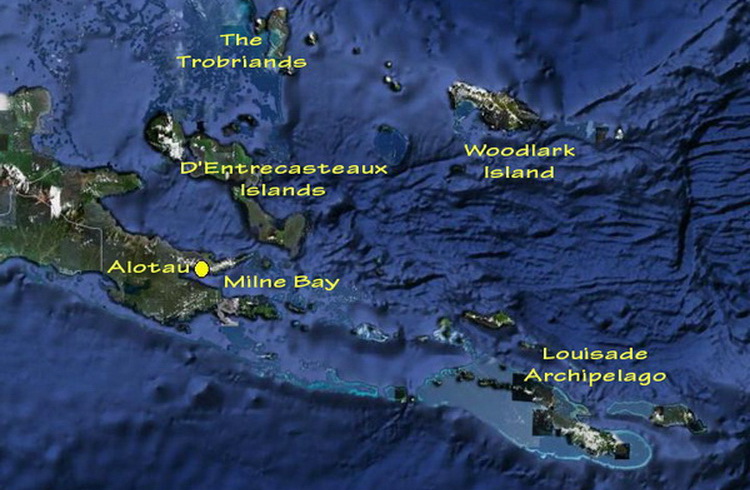 From a scuba diving perspective, Milne Bay is what launched Papua New Guinea on to the global diving scene. That was back in the late 1980's through the efforts of Bob and Dinah Halstead and their liveaboard MV Telita. Back then liveaboard dive boats were a new concept and Telita was the first one in PNG. Having been built locally by the descendants of the boat-builders trained during the Australian colonial days.
Bob and Dinah were not only able to get their business up and running… But Bob managed to write and publish numerous articles about the diving in Milne Bay. Successfully getting it on the bucket list of divers around the world!
Milne Bay Province Overview – Alotau
Alotau is the both the capital of Milne Bay Province and the main town in Milne Bay. In fact it's the only town of any size in Milne Bay…
The town is located in the hillsides of the northern shore of Milne Bay. It's a small, but safe and pleasant place that became the capital in 1968 when the provincial administrators were moved from the overcrowded former colonial capital of Samarai Island in the China Strait.
The town has banks, ATM's, a decent supermarket, hardware stores and a large local market. Plus the main airport for Milne Bay is located at Gurney, about 15km to the west of Alotau.
Milne Bay Province Overview – World War II
Milne Bay was a very important base for the Australian Army during WWII. The Battle of Milne Bay in August 1942 was the first time that the seemingly invincible Japanese forces were decisively defeated. Finally forced to abandon their complete objective.
It was also the launching pad for the Allied forces that ultimately defeated the Japanese force that landed at Buna, in Oro Province and established the forward base that was used to launch the overland attack on Port Moresby using the Kokoda Track over the Owen Stanley Range.