Diving Cape Nelson Fiords… The deep fiords of Cape Nelson are very much the visually defining feature of this area of Papua New Guinea. They are quite unique and, simply stated, they are spectacular!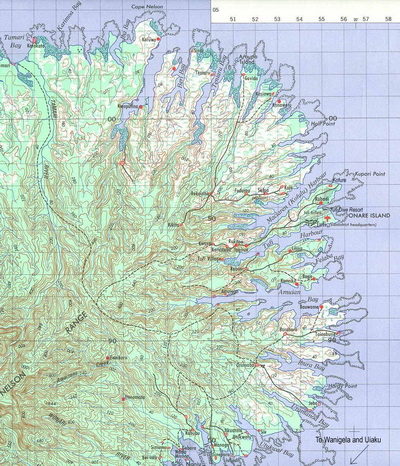 Below the water the fiords are deep and mysterious. And, apart from Tufi fiord and some of Maclaren Harbour, they are virtually unexplored.
There are several large fiords on Cape Nelson, with Amuian Bay to the south of Tufi fiord being the largest.
Tufi fiord and Maclaren Harbour to the north are about the same size and roughly ¾ of the size of Amuian Bay.
Overall, diving in the fiords is quite an unusual experience… There are a variety of things to see and probably the best way I can describe the general ambiance is that it's a little bit like fresh water lake diving.
Diving Cape Nelson Fiords – Hubert's Point
My personal favorite fiord dive site, besides Tufi Wharf & House Reef is Hubert's Point. Which is located further up into Tufi fiord but over on the southern side. It can be seen across the water from the resort's observation deck at the resort.
What makes Hubert's Point so nice is the superb sponge garden found down at around 20m. It creates a wonderful splash of color against the fairly dark waters of the fiord at that depth.
However I have only able to dive the site once… As a result of a difference of opinion between the resort and the traditional owners of the land on the headland.
Hubert's Point Image Gallery
Diving Cape Nelson Fiords – Maclaren Harbour
There are two good sites in Maclaren Harbour. With the first being Don's Reef (no… not this Don…) which is a pleasant, if not spectacular dive with an interesting assortment of hard corals and colorful sponges:
Don's Reef Image Gallery
The second site is called Maclaren's and is also a pleasant dive where you will find an assortment pf macro subjects:
Maclaren's Image Gallery