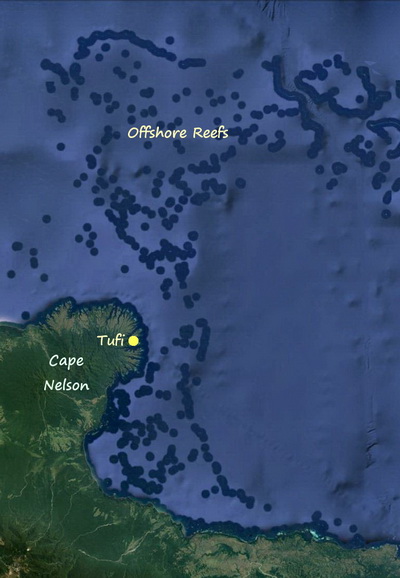 Tufi's offshore reefs and sea-mounts are located between 5 and 15 nautical miles out from Cape Nelson.
The reefs are a mixture of sea-mounts and actual reefs, which rise up from the sea bed some 200m below.
Their location means that they sit right in the path of the rich equatorial currents. Which flow up and down the coast during the monsoonal seasons.
Only about 25 of the reefs and sea-mounts are within reasonable access time of Tufi and have been surveyed. While the rest are largely unexplored, but overall the offshore reefs offer some exceptional and adventurous diving.
In the right conditions the diving on some of these reefs is simply sublime.
30m+ visibility is common… Combined with beautiful hard and soft corals, large schools of schooling pelagics and the occasional passing hammerhead shark.
Most of the reefs are completely submerged. So there is very little if any shelter and so good weather is require to dive them safely.
The resorts dive-boats typically go out everyday to Tufi's offshore reefs. However, if the weather looks challenging the sites closer in are the logical choice and those reefs that are farther out are saved for another day…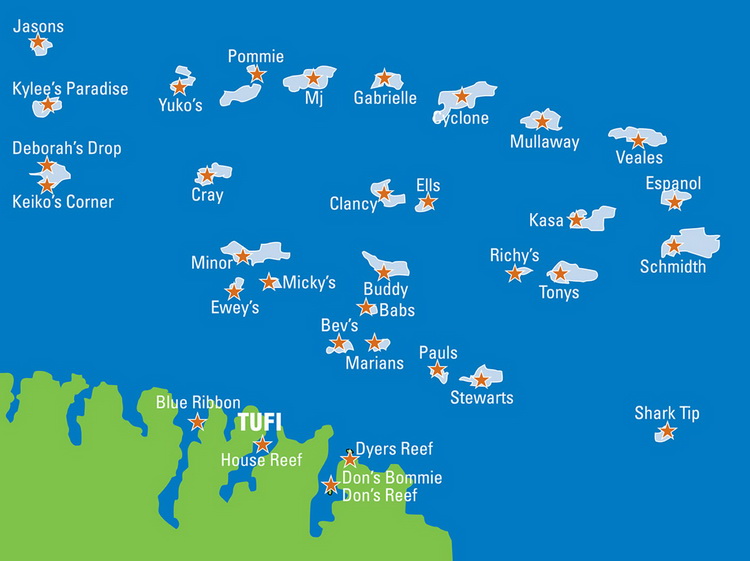 The optimum time to dive even the most distant reefs is in October and November. Which is during the doldrum period between the trade wind seasons. When the diving conditions both offshore and onshore are at their very best with calm seas and great visibility.