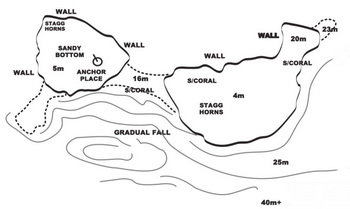 Tufi's Offshore Reefs – Bev's Reef is one of the inner reefs and therefore a relatively short journey from the resort.
It consists of two bommies that are just 5m deep. Which are linked at the top by a saddle at 16m that is rich in soft and hard corals.
The saddle is the best place in the Tufi area to see the quite rare and very beautiful Rhinopias frondosa, or weedy scorpionfish.
There is much to see at Bev's and the site has a great reputation for manta rays, which are often seen there.