Cathy's Eels is one of those unique Papua New Guinea experiences… If you are in New Ireland Province, you should really try and do it! "Cathy" is Cathy Hiob, a former Air Nuigini air hostess who has retired back to her village of Laraibina – some 90 km down the east coast of New Ireland from Kavieng.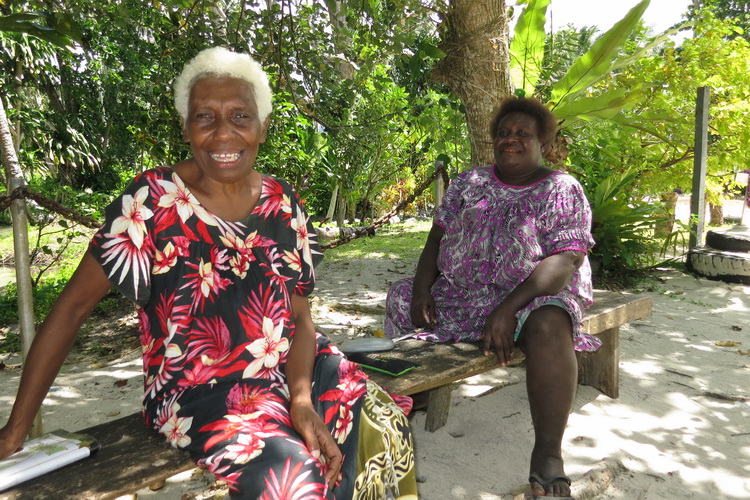 22 years of flying with the national airline has given Cathy a string of one-liners. She seems to really enjoy using them, in what seems a very well-rehearsed routine, as you sit chatting in the shade of one of the many trees in the village.
Amusing as they are coming from the feisty lady with the shock of white hair. The one-liners are not what you have come down the coast for… It's Cathy's flock of fresh-water eels that are the star attraction.
Some 10-12 large fresh-water eels inhabit the local stream. Cathy, together with her trusty assistant, has trained them on a diet of Besta tinned mackerel. They appear on demand when they hear the feeding pot being rattled.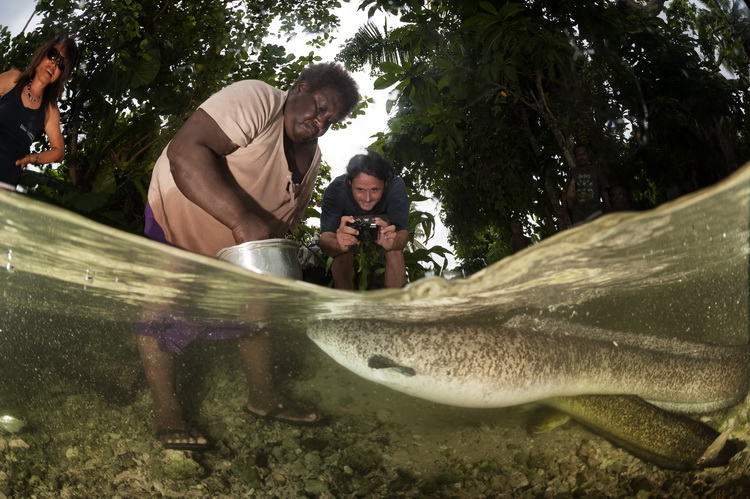 The training has worked very well, too well in fact. As I subsequently learned when the last tin of Besta had gone and the eels disappeared as quickly as they had appeared.
Cathy's Eels – The Feeding…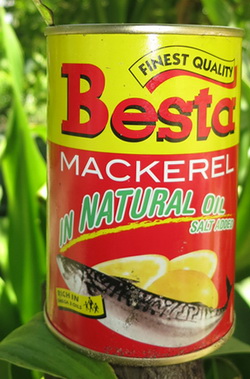 The usual routine is to stand in the stream and let the eels swim around your feet as Cathy's assistant doles out the Besta… But I needed a close-up underwater shot of the eels feeding. So total immersion therapy seemed to be the be the way to go.
In all the ensuing excitement Cathy's assistant exhausted our supplies of Besta before I had become acclimatized to the cold waters of the stream and the extremely close proximity of my silky, slivering companions.
We tried all sorts to bring them back. Even offering our lunch of fresh tuna to tempt them to the camera dome. All to no avail as the Besta appears to be the only thing that will do it for them!
So… on my next trip to New Ireland we planned it carefully. Heading out of Kavieng with 1.5 cases of Besta's best – enough for at least two eel banquets!
Detailed instructions regarding the timing and rate of dispersal of the Besta were carefully explained to Cathy's assistant. Then after I had positioned myself among the eager eels, the feeding began.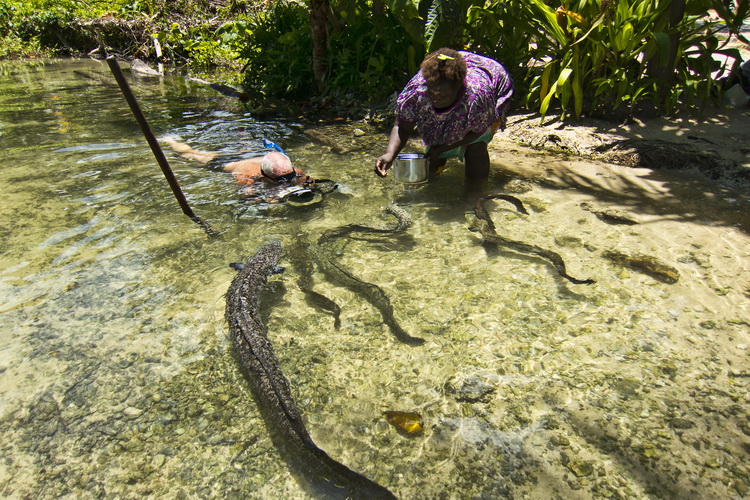 The phrase "herding cats" came to mind as I tried very hard to get a good image. The eels slithered in and out of the viewfinder and lumps of mackerel were dispersed and consumed at an alarming rate!
All in all, quite an usual and very interesting way to spend the last day of your trip to Kavieng and let that nitrogen return to where it came from.
Cathy's Eels Image Gallery