New Hanover is the large volcanic island, also known as Lavongai, to the west of Kavieng and the main island New Ireland.
When the tide of war in the Pacific changed in 1944, Kavieng became a prime target for the Allied forces because of the major naval base the Japanese had established there.
Douglas MacArthur, the mercurial Commander of Allied Forces, ruled against invading New Ireland as he implemented his "island hopping" strategy to regain control of the Philippines.
Therefore his commanders decided Kavieng would have to be neutralized through air raids, led by squadrons of B-24 Liberator heavy bombers.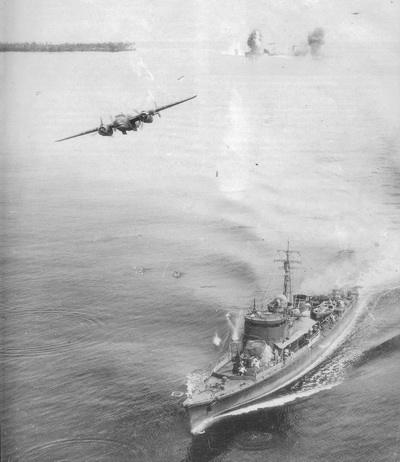 Those raids began on the 11th February 1944, and went over the next few days effectively destroying the Japanese base and its fleet of sea-planes.
The air raids on Kavieng were followed up on the 16th February when six squadrons of bombers and strafers took off in search of a 14-ship Japanese convoy reported to be heading for the area.
Three of those vessels, the Sanko Maru, an unidentified submarine and Subchaser #39 which was guarding them, were found near Three Island Harbor on the northern tip of New Hanover.
War records from the time show that the Sanko Maru, a 5461 ton tanker, was anchored in shallow waters with the partially submerged submarine next to it, while the Subchaser was cruising nearby, guarding the other two.
B25 Mitchell bombers targeted the Sanko Maru with numerous 500lb shells and the ship was quickly destroyed and sank, while the Subchaser was pursued and ultimately ran aground on a nearby reef, where it became target practice for the bomber crews.
In a tremendous photograph taken by the rear camera of "Rita's Wagon", one of the attacking B25's captured another Mitchell Bomber "Brother Rat" dropping a 500lb bomb on the Subchaser, while the Sanko Maru burns in the background.
The submarine was later identified as a Type C midget version, when bombers from the 500th squadron returned to the area the following day and dropped two 500lb bombs on it.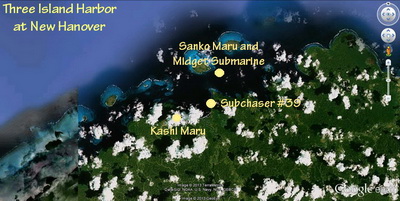 The bombs were near misses, but the submarine was lifted out of the water by the impact and a sheet of flame was reported by the bomber crew, so it was assumed the sub had been sunk.
But later evidence indicates that the submarine was actually scuttled by the crew to prevent it from being captured.
During that raid, the B25's also found 1200 ton freighter anchored in shallow water less than 1km from the sunken Subchaser and proceeded to bomb it.
The ship, which is believed to be the Kashi Maru, was split in two by the attacks and sunk.
The area of Three Island Harbor is now host to four Japanese WWII wrecks all within close proximity of each other.