Diving Kimbe Bay. A special and quite unique diving location with incredible biodiversity and offering some tremendous underwater experiences.
But Kimbe Bay is a large place and there are many places to dive – over 40 of them at the last count… Those sites range from excellent reefs that abound with beautiful bright red sea whips, hard and soft corals, large gorgonian fans and elephant ear sponges. To superb seamounts that rise up from the deep and are magnets for the large pelagics that roam the bay.
Diving Kimbe Bay is indeed pretty special!
Kimbe Bay Reef Image Gallery
The reefs are simply a joy to dive. Their health and overall vibrancy leave you in awe of just how amazing the underwater world is. Plus there is always the chance of pelagics coming in from the deeper waters to check for potential prey. And, if you are lucky, the occasional passing mermaid…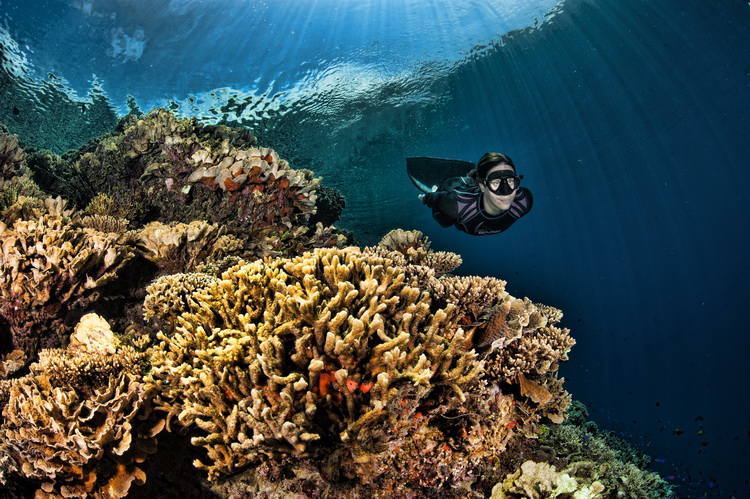 A passing Kiwi mermaid at Otto's Reef in Kimbe Bay
But for overall excitement, the sea-mounts are the place. And if the really "big dogs" are going to show up, that is where they will do it. But the sea is the sea and there are no guarantees as large wild animals have no script…
My personal favorite of the Kimbe Bay sea-mounts is Bradford Shoals. Located on the very edge of the bay where the seafloor is some 1500m below. Rising up from that abyss to within 20m of the surface Bradford's reef structure is mainly flat plates of hard corals that is home to numerous colorful small reef fish.
But a visit to Bradford Shoals is not about reef fish, it's what is above the reef and out in the blue that matters…
Surrounded by deep blue water and quite distant from the nearest reef structure, Bradford acts as a magnet for big fish and pelagics. No guarantees, but on almost any given day you are almost certain to see large schools of barracuda, big-eye trevally, dog tooth tuna, unicorn fish and fusiliers plus skittish white-tip reef sharks, cruising gray reef sharks out in the current and the chance to see a great hammerhead on an occasional foray up from the deep.