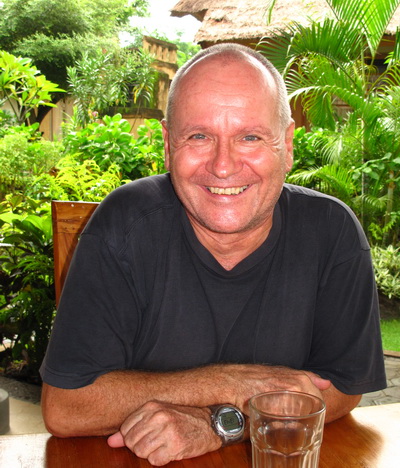 To the east of Tulamben Bay is one of the best known critter diving sites in Bali and possibly the most random dive location on the island…
The site is Seraya Secrets, the house reef of the Scuba Seraya dive resort, and if ever there was a case of being in the right place at the right time this is probably it.
Scuba Seraya was established in 2003 by Patrick Schwarz, a Swiss national who moved to Indonesia in 1990, spending 7 years in Jakarta and becoming a scuba instructor in the process.
Moving to Tulamben in 1997, Patrick worked as an instructor and dive resort manager for a couple of years and developed the concept of a resort catering to discerning divers who wanted to dive all the sites in Tulamben Bay, rather than just the Liberty Wreck.
Patrick's idea was rather than sticking with the local practice of shore-diving, he would use rigid-hull inflatable boats to get divers on to the those sites at the optimum time, so they could be experienced at their very best.
In 1999 he bought 6000 sq m of beachfront land at Tanjung Muntig, 3km to the east of Tulamben Bay and borrowed the name from Mount Seraya, the 1200m high mountain that dominates the eastern part of Bali generally referred to as Amed.
Construction on the resort began the following year and the first guests checked in to the resort for Xmas 2003.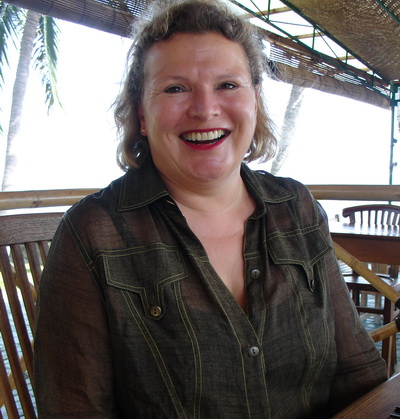 The supreme irony being that the area in front of the resort, where the boats would be moored, had never been really been fully surveyed…
Patrick had done a couple of a couple of quick exploratory dives and had largely written it off as nothing more that just another patch of black sand sloping down in to the deep water to the north of Bali.
Then in November 2003, just before the resort opened, Christiane Waldrich decided to do a more detailed survey of the area and was amazed to discover a veritable treasure trove of critters in and amongst that black sand.
Christiane is from Munich in Germany, and met Patrick Schwarz in 2001 when he was looking for potential investors in the resort.
She became Patrick's first investor and began dividing her year equally between her "day job" as a dealer in antique & contemporary glass art and her new second home at Seraya.
Christiane is a self-confessed nudibranch fanatic, creatures she passionately describes as the "butterflies of the reef" and over the next three months she identified 120 different species.
In 2007 Christiane decided to build her own resort on land she bought next door to Scuba Seraya and built the very nice Villa Markisa.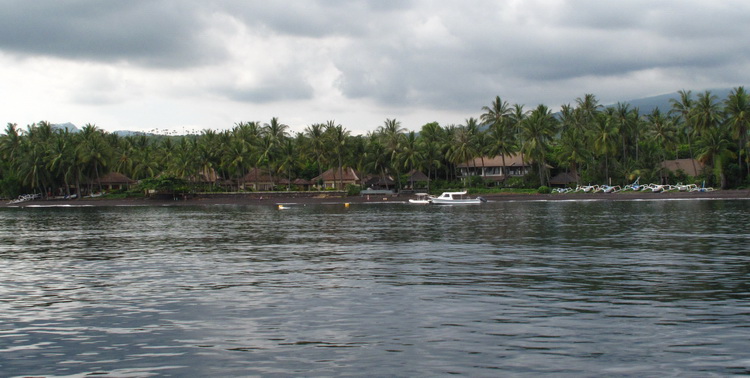 The beachfront at Tanjung Muntig with Scuba Seraya to the left and Vila Markisa to the right
Back To: Scuba Diving in Bali