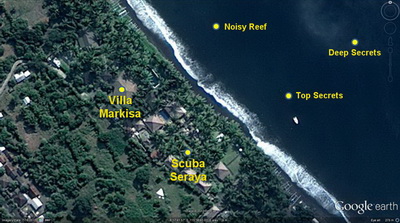 There are actually three dive sites that fall under the general description of Seraya Secrets – the original site itself in front of Scuba Seraya, which is usually referred to as Top Secrets, and then there is Noisy Reef in front of Villa Markisa and finally Deep Secrets down the slope.
All three sites are easy to dive as they are a simple beach entry and the only time it gets less so, is when the wind blows hard from the north and the resultant waves make entry & exit on the black sand beach more than a touch difficult…
Top Secrets: This is my personal favorite of the three and certainly where I have taken my best images – but I must warn you that first impressions are distinctly underwhelming and initially it will appear that there is not much to see and you will begin to wonder what all the fuss is about…
But the critters are there and you can either take your time and search for them, or hire a guide to take you straight there.
The site itself is a fairly steep black sand slope populated with patches of rocks and it is amongst these patches where you will find the majority of the critters. The action starts from about 5m, but the most of the activity is between 10m and 20m.
I first dived Top Secrets back in 2005 and every time I go to Tulamben I make a point of diving it at least twice. Over that period I have seen mimic octopus, wonderpuss, several different types of frog fish, robust & ornate ghost pipefish, Coleman shrimp and harlequin shrimp to name but a few…
All the images below in the gallery were taken at one time or another at Top Secrets – it's a "critter-rich" environment!
Top Secrets Image Gallery
Noisy Secrets: This site gets its name from the large number of juvenile triggerfish that are found there and who generate a lot of noise with their clicking…
Consisting of a small reef flat measuring rough 50m by 200m, which starts about 20m from the shoreline at about 12m depth. Noisy Secrets is often compared to the Coral Garden in Tulamben Bay and is known for its schooling blue triggerfish and the noise they make, plus the large numbers of blue-dotted stigrays that burrow in to the black sand.
Noisy Secrets is well worth exploring, but is not the critter rich environment that Top Secrets is.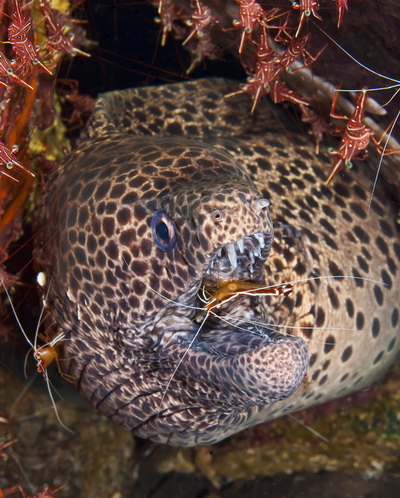 Deep Secrets: Head down the slope from Top Secrets and at 35m you will find a busy cleaning station, which is clearly marked by the school of banner fish that hovers above it.
The cleaning station is located in a small ridge on the slope and is a kind of mini, self contained, ecosystem where a food chain has built up around the coral grouper and moray eels that hang out there to be serviced by the resident army of cleaner shrimp.
Although quite small, Deep Secrets has a lot going on and you will quickly burn through your available bottom time.
While I have not personally witnessed them, there are lots of stories about the cleaning station receiving periodic large pelagic visitors such as spotted eagle rays and dolphins, plus once claimed sighting of a whale shark!
I usually try to dive Deep Secrets at the start of the first dive, but only if I can get it to myself as its small area means that it gets very crowded if other divers are already there, or turn up while you are there…
If I see other divers already on the cleaning station I usually just go back up the slope and spend my time in the shallower waters, because by the time you have waited for them to depart your bottom time will be disappearing fast.
Similarly, if I am there first and other divers arrive I give them a quick signal that I need another 2-3 minutes, finish off the images I am taking and very carefully leave the area without finning hard.
Is there anything worse than a departing diver leaving you in a cloud of black sand, seemingly totally oblivious to what they have just done?