Gili Mimpang is one of three very significant dive sites in the Amuk Bay area – the other two being Gili Tepekong and Gili Biaha.
Gili means island in Bahasa Indonesia and that is exactly what these three sites are – small isolated rocky islands sticking up from the sea bed into the fast waters of the Lombok Strait.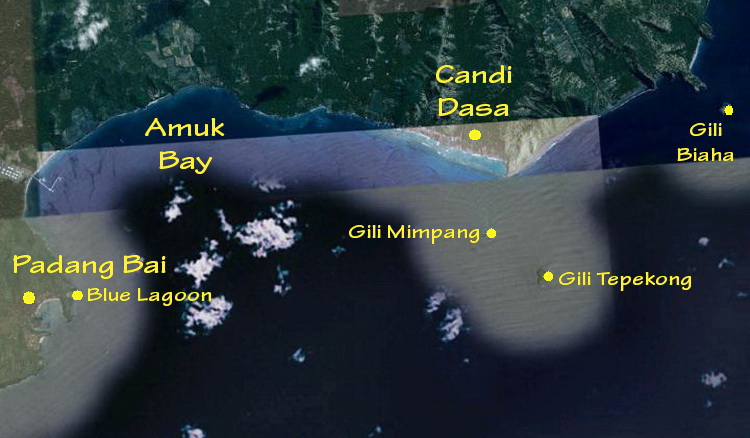 Map of Amuk Bay showing the main dive sites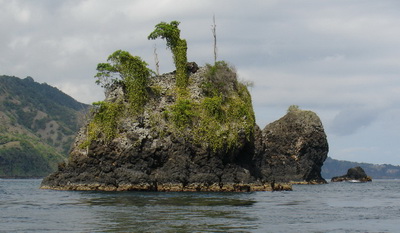 Gili Mimpang is physically located just outside of Amuk Bay where the seafloor starts to drop down into the depths of the Lombok Strait.
Locally Gili Mimpang is referred to as Batu Tiga (three rocks) because from the surface that's exactly what it looks like – three large, but separate rock structures.
Urban myth has is that up until the early 1960's there was only one rock, but that was before the Indonesian air force sent their pilots to use the rock for target practice…
Quite whether this is true or not is not clear, but underwater there are a large number of  lot of sharp-edged rocks & boulders that certainly add some credence to the myth.
Because Gili Mimpang is closer in to Amuk Bay it is generally considered to be a lesser site that both Gili Tepekong and Gili Biaha.
But the reality is that it's actually an excellent site and while it is true that it is often dived when conditions at Tepekong are too dangerous, this is a reflection of just how complex are the currents and tides in the Amuk Bay area are and conditions are rarely in sync at both sites.
I have enjoyed some excellent dives at Minpang, with the area around the southern edge of the site being my favorite spot.
Here there are some really nice small caves that teem with fish life and healthy soft corals which are surrounded by very photogenic glass fish.
A little bit further south from the small caves is the wall that marks the edge of the Lombok Strait and it was here that I saw my first Mola Mola, or Oceanic Sun Fish, that this area of Bali is well known for at certain times of the year.
I was actually still in the cave area when my very excited dive guide Mitra basically dragged me away giving me a strange hand sign that I subsequently learned is the local code for the Mola Mola…
I have long wanted to photograph the Mola Mola, but was not expecting to be so fortunate as it was late December, and September is known as the time to see them.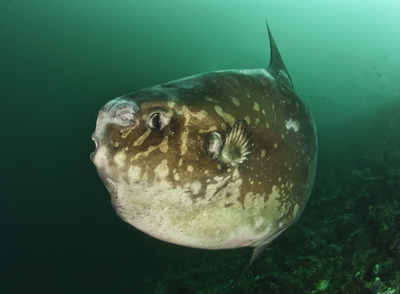 Not only did one grace us with its amazing presence that day, but I was actually able to photograph it as I had made the decision to use a fish-eye lens after being shown the cave area on the previous day.
They really are a unique creature, almost 3m from tip to tip they appear quite ungainly at first glance but can move very quickly!
As I subsequently learned when I tried to get "the shot".
A true pelagic about which very little is known, they are believed to come to this area of Bali to be cleaned of parasites – usually by the common banner fish, which was indeed the case with the one we saw that day.
The southern edge and the western side of Mimpang are also one of the best places in Bali to see white tip reef sharks and I saw several during my dives there, but none would come close enough to get a decent photograph of I'm afraid…