The island of Halmahera, and its main neighbors of Morotai in the north and Bacan & Obi in the south, sit right in the path of the Indonesian Throughflow – the phenomenal force of nature and life-source of the Coral Triangle.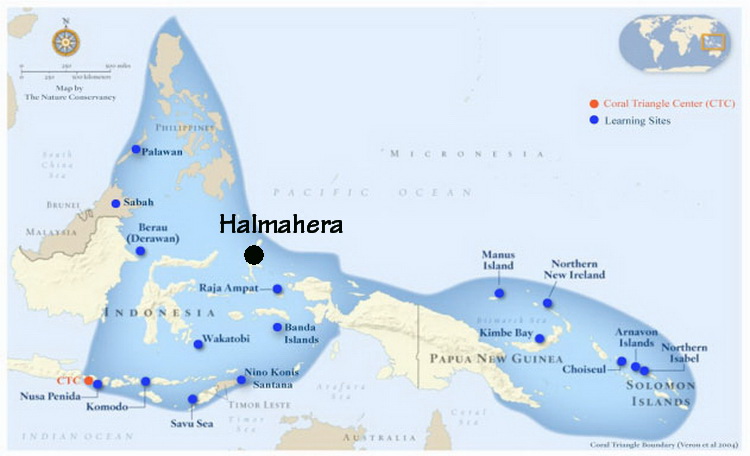 Studies by Conservation International indicate that northern Indonesia, from Sulawesi to the western part of Papua, has what is probably the highest marine biodiversity in the world.
Halmahera sits right in the middle of that biodiversity, but the sheer remoteness of the region and the general lack of survey data, means that the area is virtually a black box with very little known about it.
However a significant indicator of Halmahera's potency is the 2005 rapid survey that Dr. Gerry Allen, the celebrated coral reef fish authority, conducted in the south-western part of Halmahera and over 37 hours underwater at 28 locations, he recorded a total of 803 species of reef fish – compared to the 828 species he recorded in Raja Ampat during a similar survey conducted over 60 hours in 2001.
This comparison clearly indicates that Halmahera has a marine biodiversity that is comparable to, and possibly better than, Raja Ampat!
Diving Indonesia: Scuba Diving in Halmahera – Liveaboard Dive Boat
Until 2010 the only real option available to dive the Halmahera region was to use a liveaboard dive boat, but the area is not really an established route for most boats as the main focus these days is Raja Ampat.
When I did my trip to the area it was on the SMY Ondina, which moves with the seasons between Raja Ampat, North & South Sulawesi, the Lesser Sundas and back to Raja Ampat. I was able to join an exploratory trip Ondina did from Sorong in Raja Ampat to North Sulawesi, which took us through the southern & western areas of Halmahera and is documented in this article.
Several other boats also periodically advertise trips to the Halmahera region, but none seem to do it on a regular basis, so it is a case of keeping your ear to the ground and on the mailing list of the various liveaboards working Indonesia these days.
Diving Indonesia: Scuba Diving in Halmahera – Weda Dive Resort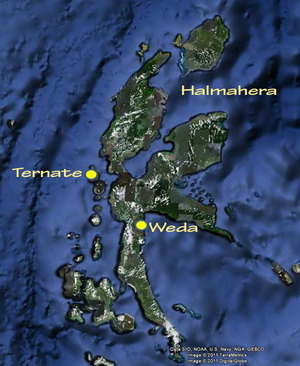 In 2010 Rob Sinke took a bold decision and opened the Weda Dive Resort on the east coast of Halmahera.
Rob is a long term resident of Indonesia, a committed environmentalist and the owner of Divers Lodge in Lembeh.
Weda Resort follows the same eco-friendly formula as Divers Lodge, which means simple but green & effective.

The location was apparently chosen because the reefs in that area of Weda Bay are protected against over-fishing by the local villagers and are in excellent condition.
I have not dived this part of Halmahera so I cannot vouch for the the quality of the reefs in Weda Bay, but the images on the resort's web site look pretty good!
There are daily flights to Ternate from both Jakarta and Manado, then it's a 5 hour journey to the resort, which involves a water crossing over to Halmahera Island and then a road trip through the mountainous backbone of the island.
Diving Indonesia: Scuba Diving in Halmahera – When to dive?
As with most locations in Indonesia, an understanding of the monsoon seasons is the key to knowing when to get the best diving conditions and this is particularly so in Maluku province.
The general weather pattern in Indonesia is for two monsoon seasons each year, consisting of the southeast dry monsoon and the northwest rainy monsoon. The dry season usually starts around May and continues through to September, while the rainy season begins around November and lasts through to March.
But the weather patterns in Maluku Province are different, with the central & southern areas having their dry season from October to March and their wet season between May and August – basically opposite to the rest of the country.
However, in the northern area of Maluku where Halmahera is located, the wet season can be expected from December until March, which is similar to the rest of Indonesia and all very confusing…
Overall though the best time to dive Halmahera is October through to May, while the months of June and September can be reasonable.
Strong south-east to south-west winds and choppy seas can be expected in July and August.
Diving Indonesia: Scuba Diving in Halmahera – How to get there?
It all depends upon where you are going… if you are diving Halmahera from a liveaboard the chances are that you will be leaving from either Sorong in Raja Ampat or from Bitung in North Sulawesi.
Sorong does not have direct flights from either Jakarta or Bali, the main airline hubs in Indonesia with international terminals, so you will have to transit through either Makassar (Ujung Pandang) and/or Manado.
Merpati, Express Air and Lion/Wings operate daily flights from Jakarta to Sorong with stopovers in Makassar or Manado and if you are tarvelling from Bali there are good connections that will allow you to connect with those flights.
Manado in North Sulawesi has its own international airport, serviced by direct flights from Singapore with Silk Air four times a week, so an alternative would be to enter Indonesia through Manado and then connect with the flight to Sorong.
Bitung is the other side of North Sulawesi from Manado and involves a transfer of about 1.5 hours.
If you are planning to dive Halmahera from Weda Dive Resort then you need to get to either Jakarta and Manado as there are daily flights to Ternate from both. Alternatively you can enter Indonesia in Bali and connect to Manado from there.