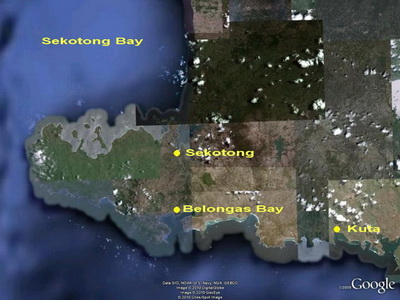 On the south coast of Lombok, on the other side of the peninsular from Sekotong, is Belongas Bay.
Currently it is only accessible via a pretty rough road which takes you over the hills and through numerous small villages.
Belongas Bay is host to several very good dive sites including the legendary Magnet and the Cathedral.
The bay itself is fairly large and is sheltered & quite scenic with long sweeping white sand beaches and rolling green hills, but as you head south out of the bay the power of those waves coming all the way from the Roaring Forties becomes apparent as they break on the eastern & western tips of the bay.
The Magnet, or Batu Kapal as it is known locally, is a pinnacle in about 80m of water and located in open water to the southwest of Belongas Bay. It's position means that it is exposed to the big seas from the southeast and is infamous for the surge, strong currents and potential downdrafts that occur at such sites in Indonesia.
But the same things that create the dangerous elements are also the ones that attract the "big dogs" and the site is equally famous for the schooling hammerheads, barracuda, tuna & mobular rays that aggregate there.
The Cathedral is located further eastwards and is also exposed to the elements and known for schooling pelagics & a large cave at 40 meters.
Both the Magnet and Cathedral are only for experienced divers and a good guide who knows the sites is essential to diving them safely.
On the days I dived them the conditions underwater were far from optimal…
So I did not get to see the big dogs, but I was somewhat awestruck at both sites and I could just sense that I was somewhere very special indeed!
There are several other less challenging but very good sites around Belongas Bay and I enjoyed excellent dives at both Gili Sarang and the Coral Gardens, both of which are near the entrance to the bay.
Belongas Bay Image Gallery