The Indonesian island of Lombok is often referred to as the "next Bali", or like Bali was 20 years ago before major development, but that simple if inevitable comparison ignores the significant cultural & geographical differences between the two islands.
Although long in the shadow of its famous western neighbor, the signs are that Lombok is finally emerging as a mainstream tourist destination in it's own right.
Tourism first touched the island in the early 1990's around the west coast town of Senggigi & the three offshore Gili islands further to the northwest, but the long promised Lombok International Airport was delayed & delayed and the predicted tourism boom simply never arrived.
Then in 2005 the Indonesian government announced that the airport, located near the central Lombok town of Praya and about 20km southeast of the capital Mataram, would finally go ahead with a completion date of the end of 2010.
However further delays meant that the 2010 date was missed and the new airport finally opened on Saturday the 1st of October 2011.
The new airport will make it much easier to get to Lombok and many of the major budget carriers are said to be looking at adding flights, which has lead to resort operators & private investors snatching up any remaining prime beachfront property in the north & northwest and turning their attention to the sleepy south & southwest.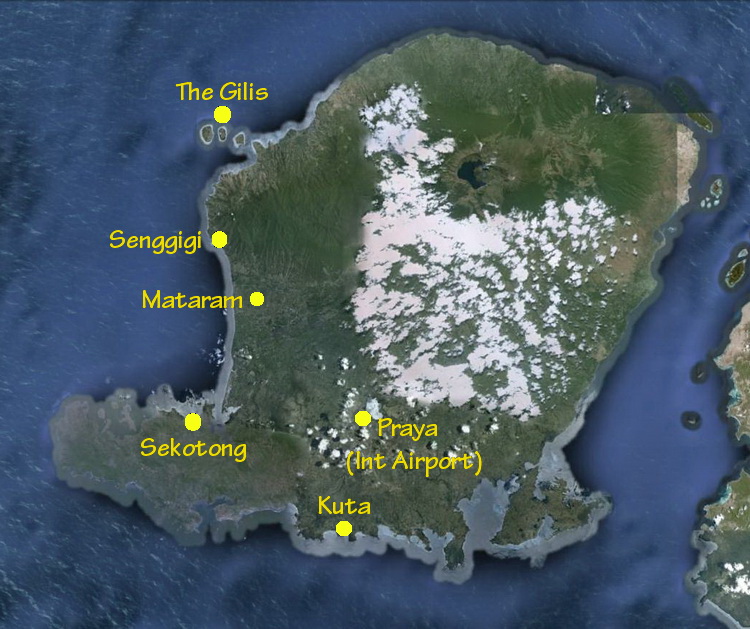 Lombok map showing the main tourist and scuba diving locations
Mass tourism aside, divers & surfers have been visiting Lombok for many years but whether they arrive on the short 20-minute flight from Bali, or the longer ferry trip across the Lombok Strait from Padang Bai, their onward directions are usually quite different – divers head north to the Gili Islands and the surfers go in the opposite direction to chase the big waves on the south coast.
But with the south opening up, more and more divers are starting to follow the surfers and explore the new sites being found there and to check out the "power sites" such as the Magnet and the Cathedral, that have a degree of hard-core iconic status in the diving community.