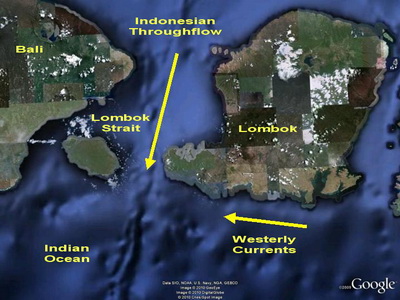 South Lombok marks the spot where two tremendous elements of nature come together and the results are some big currents mixed in with some big waves…
The Lombok Strait between the islands of Bali & Lombok is one of the main exit points for the Indonesian Throughflow, the phenomenal flow of water from the Pacific Ocean to the northeast of Indonesia, out of the archipelago into the Indian Ocean where it meets the combined forces of the South Indian & South Equatorial Currents.
Ask any surfer about South Lombok and they will tell you about the large & incredibly smooth waves that break along the rugged coastline – but hey dude, watch out for the rips & currents…
The waves are special because they have traveled all the way from the Roaring Forties of the southern Indian Ocean and up the long West Australian coast before reaching Lombok, a process that smooths out the ripples and makes for great surfing.
The rips & currents are the result of the mixing bowl effect of the Indonesian Throughflow entering the Indian Ocean and mixing with the strong westerly currents flowing along the south coast.
For divers these dynamic conditions create challenging but very interesting underwater opportunities, because where there is strong current & deep water close to a landmass there is the potential for a mini eco-system and interaction with the "big dogs" of the sea.
But just as surfers get the word from the experienced locals before attempting challenging breaks, we divers need to do the same!
Diving Indonesia: South Lombok Scuba Diving – In Summary…
South Lombok is an interesting and quite new location that is well worth visiting and high on my personal bucket list is to dive the power sites of the Magnet and Cathedral in Belongas Bay in optimum conditions.
The three main diving locations of Sekotong Bay, Belongas Bay & Kuta, and their relative close proximity to each other, offer an excellent set of alternatives.
If you base yourself in Sekotong Bay, it's possible to get to the dive sites both there and in Belongas Bay, and relocating to Kuta if the conditions are better there is easily arranged.
Overall my experience was that the best, and certainly the most adventurous diving, was on the south coast at Belongas Bay & Kuta, but the diving in Sekotong Bay is a very pleasant alternative and it's sheltered location means that if the weather or other conditions preclude diving in the south, then it's an excellent "Plan B".