Another excellent antidote to an excess of critter diving is a day trip (or two..) out of Ambon Bay and along the south coast of the island to visit two first class sites – Pintu Kota and Hukurila Cave.
Pintu Kota means Gate of the City in Bahasa Indonesia, and is located on a small headland about an hour's boat ride along the south coast from the entrance to Ambon's harbor.
It gets its name from the several large archways that honeycomb the headland and create the impression of large doorways in to a huge inner cathedral like chamber.
Underwater there is a very large archway at 17m that mirrors the ones above water and the healthy surrounding reef and clear blue water.
Combined with the overall ambiance created by the streams of sunlight penetrating down through the above water chambers, the overall effect is superb and creates a wonderful environment to use your widest wide-angle lens.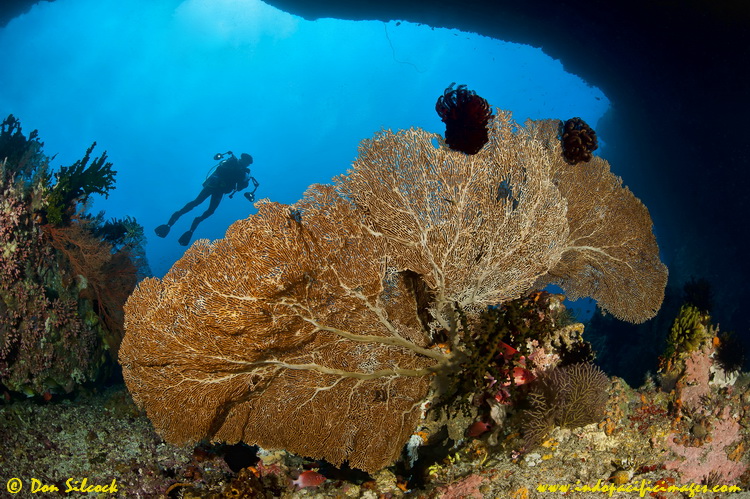 Hukurila Cave is further east along the coast from Pintu Kota and is another small honeycombed headland that hosts a particularly interesting twisting chimney that is best entered from the top.
The large passage ways provide several interesting photo-opportunities with large sponges and archways to frame your model against and at the bottom there are three exits to explore.
One large exit hosts some very luxuriant gorgonian fans and sea whips which can be showcased against the blue water from above.
Both Pintu Kota and Hukurila Cave are must-do dives and the minimum you should consider along the south coast, but there are a total of 10 other sites identified that are possible to dive on a day boat!