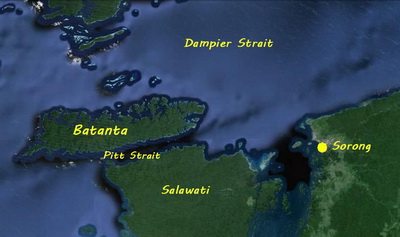 The island of Batanta is the smallest of Raja Ampat's "Four Kings" – it is a rugged and mountainous place still covered in largely pristine rainforest.
The island covers an area of some 450 square kilometers and, although fairly close to Sorong and the main population center of Raja Ampat, it is sparsely populated.
Separated from the much larger island of Salawati to the south by the Pitt Strait, which is sometimes referred to as the Sagewin Strait presumably because of the small island of that name at its western end.
To the north is the Dampier strait and the third of the four kings – Waigeo Island.
Interestingly back in the Pleistocene epoch, which ended nearly 12,000 years ago, Batanta and Waigeo were part of the same landmass called Waitanta – whereas Salawati and Misool (the fouth king) were part of West Papua.
So although Batanta and Salawati are now only about 5km apart, their flora and fauna were quite different – particularly the bird life and Waitanta is very well known in bird watching circles for its rare Bruijn's Brushturkey, Wilson's Bird-of-Paradise and  Red Bird-of-Paradise, plus other avian delights such as the Western Crowned Pigeon and the Brown-headed Crow!