Perched on top of a limestone headland on the northern side of the peninsular that forms the north coast of Milne Bay, facing out across the Goschen Strait towards the D'Entrecasteaux Islands and surrounded by dense rainforest, is Tawali Dive Resort – the brainchild of long-time Papua New Guinea resident Rob van der Loos.
Rob is one of the pioneers of recreational scuba diving in Milne Bay who has been diving the area for almost 35 years and probably knows it better than any other single individual.
The concept of building an upmarket dive resort in Milne Bay is both simple and elegant – take a known set of great dive sites and build an eco-friendly lodge & support facility close by so that divers can enjoy significantly more creature comforts than on a liveaboard, and even bring their family along…
Plus they can come for just a few days as & when they want, rather than being tied to the fixed schedules of a liveaboard.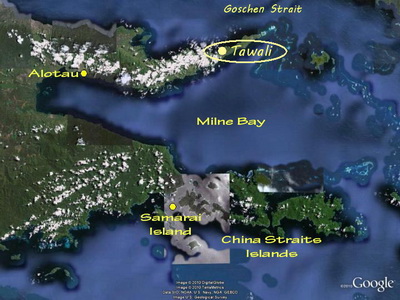 But this is Papua New Guinea, where very little is as simple as it may seem, starting with the basic fact that 97% of the land is owned by groups of people rather than individuals.
So the negotiations associated with purchasing a specific block of land can be rather difficult and very long…
In the case of the land that the resort is built on, it took 8 years to complete those negotiations.
Then add in the fact that there are no roads, no mains power or water available and you start to get the picture of what was involved to build Tawali.
So the finished resort says a lot about Rob van der Loos and his sheer determination!
The main lodge & accommodation at Tawali are built on the limestone headland, overlooking a small bay and the resort's house reef. The view to the north, out over the Goschen Strait towards Fergusson & Normandy Islands in the D'Entrecasteax goup, is superb – particularly at sunset!
Round the headland and to the west is a larger bay where the service area for the resort is located.
Arrival at the resort is via boat at the main jetty in the small bay and, a short walk up a wooden boardwalk, brings you to the entrance of the lodge which hosts the main reception area, the restaurant, a small bar and the large observation deck overlooking the bay.
Covered walkways lead from the main lodge to the individual guest bungalows and then around the headland to the service area.
Simply stated, the finished resort is impressive and well run, the guest bungalows are very nice and the restaurant managed to produce superb meals every time I went in there, while the outdoor observation deck was a particular favorite of mine and a great place to linger with a cold beer to watch the sun go down after a long days diving…