Transit in Port Moresby is something you will have to do when traveling on to one of the main diving locations. The reason is simple – Papua New Guinea's capital is the only international gateway in to the country.

Port Moresby suffers from a really bad reputation… So most travelers try to minimize the time spent on transit there. Arranging on-going flights on the same day as international arrival is possible. But you need to arrive in Port Moresby by about 13.00. Because many of the on-going internal flights depart between 15.00 to 17.00.
Arriving by 13.00 gives you enough time to get through immigration, get your luggage and go through customs. The domestic terminal is a short from the international one. And my experience is that 2 hours is the minimum transit time because of delays getting through both terminals.
Transit in Port Moresby – Immigration and Customs
The first delay is at immigration. So try and get seated towards the front of the plane so you are off first and nearer to the front of the queue.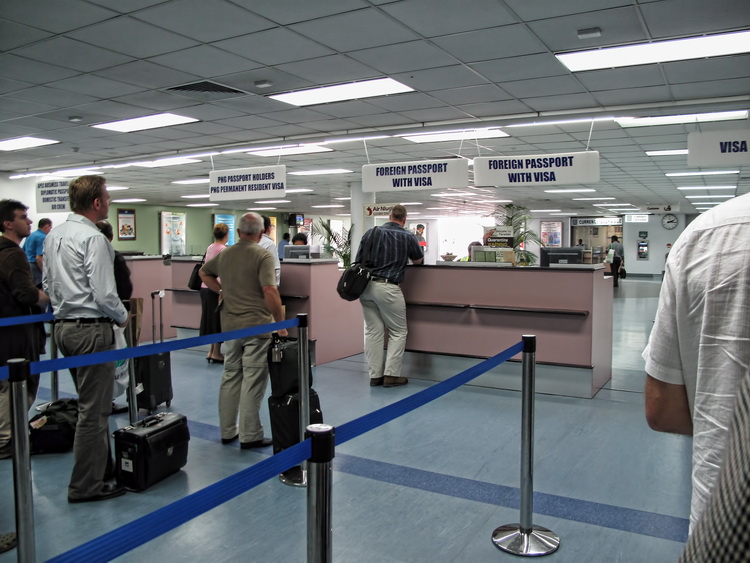 There are 4 queues at immigration, one each for PNG residents, diplomatic and APEC, foreigners with visa and visa on arrival.
While the visa on arrival (VOA) works well if you are eligible. However it is one more thing to do when you are already probably a bit flustered and nervous about making your connection. So applying in advance for your visa is a good idea, especially on your first trip to PNG.
Baggage collection and customs are immediately after immigration and collecting your bags is usually straightforward. Customs is also pretty easy, providing of course you are not doing anything wrong. The officers are used to divers with a lot of luggage and are quite friendly overall. Personally I have never had any real problems on the way in or out of PNG.
Once you clear customs there is a bank and ATM to change money. That is what I do personally, as you get fleeced on the exchange rate outside of PNG… Particularly so at Brisbane airport!
Access in to the arrivals area is restricted, however it is usually crowded with people from the hotels etc, but it all quite safe. These two guys are usually hanging about just outside the exit doors and for a small fee will pose with you…
Transit in Port Moresby – Changing Terminals
The transfer to the domestic terminal is very straightforward – you turn right and walk for a couple of minutes. That's it… But emerging from customs in to the reality of Port Moresby can be a little daunting. Very much so the first time as you will have no doubt read all sorts of bad stuff about it.
Personally I have never had a scary moment at the airport. Lots of frustrating ones because of late and cancelled flights no doubt. But never one where I have actually been scared or intimidated. However what does make you nervous are the number of people that seem to be just milling about without an apparent purpose. And they seem to watch you as you make your way towards the domestic terminal.
In reality this is probably because you have a lot of luggage and look a bit flustered. But in your mind it will be because they are planning to rob you of your expensive dive gear and cameras!
Transit in Port Moresby – The Domestic Terminal…
Having made the short transfer you enter the often chaotic domestic terminal. Usually it is full of local people going back to their homes with enough supplies to feed an army. And in among the local travelers will be the divers, birders and trekkers also loaded down with lots of stuff.
Stating the obvious – you are probably going to have baggage weight issues. Both with your check-in and your carry-on. The best bet is to check in as much as you can and pay the excess baggage. But, if you are flying Air Nuigini, don't forget to ask for the 30kg standard plus 15kg "divers baggage allowance".
The typical baggage allowance is 30kg with Air Niugini's international flights. And they will allow more than the 16kg limit on domestic flights if you came in to PNG with them. Exactly how much extra is not clear… but with the 15kg diving allowance most travelers will be OK.

If you don't ask, you will be charged as the staff at the desk won't ask you if you are a diver…
Transit in Port Moresby – Carry-On Baggage
You can expect to be challenged about your carry-on. Sometimes they are really difficult and sometimes not… A lot will actually depend on where you are going. Because on the more popular routes bigger planes are used. But on other routes the planes get smaller so the carry-on baggage becomes a critical issue.
My personal approach to the carry-on issue is first of all always be polite. They are just doing their job and it's not personal… Then I have the delicate stuff like cameras and lenses in my backpack. The more robust items like my camera housing and ports (I have special thick neoprene covers) in my smallish roll-on.
So that in the worst case I can check that in. Obviously I am never comfortable when forced to do that, but so far when it has happened it has been OK.
Once through that check there is a security check and you are through to the departure lounge and the "wait". This is the moment of truth as you never know if the plane will come in on time, turnaround and depart for your destination before night fall.
Transit in Port Moresby – Delays…
Of the many times I have been to PNG in the last 20 years or so I would estimate that 20% of the internal flights had problems. Often you will not know till the very last minute and the flight will be cancelled. At which point there will be a scramble to get accommodation for the night!
In fairness to Air Nuigini, who are the major domestic carrier, I have never failed to get to my final destination. Plus, in my opinion, there has been a quite noticeable improvement in recent years.
The basic problem is that PNG is a large and rugged country and Air Nuigini (like all airlines) has a fixed number of planes. So when there is a problem, and there seem to be many, the system backs up. The plane you are waiting for either does not arrive, or does so too late to turnaround. That means an extra flight has to be scheduled for early the following morning…
Which entails getting back to the airport in the middle of the night so that the flight can take off without disrupting the day's schedule. Often chaotic and very frustrating when it happens. But it usually works out in the end and there is no point in taking out on the poor ground staff who always try there best to sort things out.
It's Papua New Guinea – Expect the Unexpected… Or plan on staying overnight in Port Moresby and take the morning flight to your final destination. The early domestic flights are usually much more reliable than the late afternoon ones.