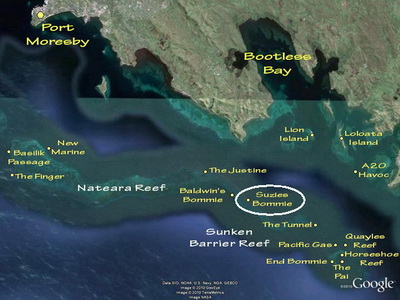 Diving Suzie's Bommie… Just 15 kilometers from Port Moresby, and only 30 minutes from Loloata Resort. Suzie's Bommie is one of my favorite dive sites in Papua New Guinea.
Hard to believe that such good diving could exist so close to a capital city. But when the conditions are right Suzie's Bommie really is world class diving!
Suzie's is a sea-mount that rises up from the sandy seabed at 30m, to within 13m of the surface.
It is located on the sunken barrier reef, which runs roughly parallel to the coast about 3.5 kilometers offshore. It really is a pristine example of a reef ecosystem capable of sustaining an amazing array of creatures.
Those creatures range from the tiny but incredibly photogenic pygmy seahorse. Which you will find hiding among the gorgonian sea fans on the side of the bommie. To the shoals of schooling pelagics that hang in the blue above the bommie!
However, the location of Suzie's Bommie on the Sunken Barrier Reef means that it can only be dived when the conditions are right. But dive Suzie's when the conditions are good and the overall experience will remain etched into your memory for a long time.
Probably the thing that you will remember most though are the incredible school of sweetlips that hang out on the top of the reef. Obviously feeling a degree of safety in numbers. If you wait patiently and refrain from any aggressive behavior they will slowly approach you en masse to the point where you could reach out and touch them!