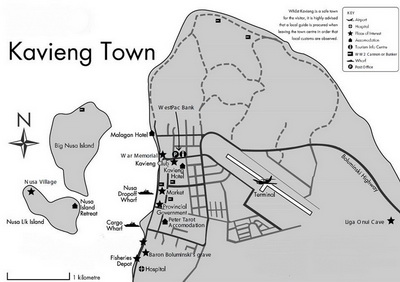 Kavieng is the capital and largest town in the province of New Ireland.
That said, the reality is that it's a pleasant but sleepy small town with a population of just 17,000 people…
Located at the northern tip of New Ireland, Kavieng is often described as a typical "Somerset Maugham South Sea island port". So a loose translation of which would friendly, laid-back and quiet.
Founded in 1900 by the by the German colonial administration around a large and very picturesque harbor on Balgai Bay. The town is sheltered from the sea by two Nusa Islands (Big Nusa and Nusa Lik) to the west.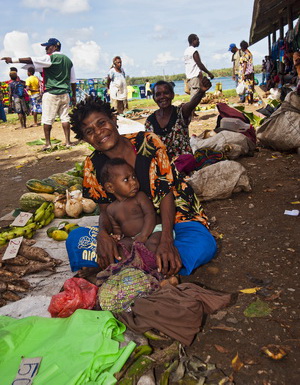 The main street is Nusa Parade which runs around the bay. And along it, or just off it, you can find various points of historical interest such as Baron Boluminski's grave.
Boluminski was the German colonial administrator who ran what was then called Neu-Mecklenburg from 1910 until his death of heatstroke in 1913.
He built the Boluminski Highway. Which to this day is the main (and only…) road on New Ireland.
Kavieng has a golf course plus a range of restaurants and bar facilities, banks and ATM's, general stores, bakeries and supermarkets.
There are a variety of places to stay ranging from guesthouses to hotel and resort style accommodation.
Kavieng Market
The main Kavieng Market is located on the foreshore and is a colorful hub of activity most days of the week.
The market is full with a wide variety of locally grown fruits and vegetables. Plus fresh and smoked fish, live mud crabs, baskets of sunga and kina shells and of course plenty of buai (betel-nut). So it's a great place to wander around and interact with the locals who are genuinely friendly and open.
They also seem to really like having their photograph taken…
We cannot display this gallery
Kavieng Market Photo Gallery