Warning
: Division by zero in
/home/customer/www/indopacificimages.com/public_html/wp-content/plugins/nextgen-gallery/src/DisplayTypes/Slideshow.php
on line
76
Located off the westerly tip of New Hanover, just south of Ao Island near Cape Mantanalem, Chapman's Reef is a "must do" dive if you ever get the chance to dive this part of Papua New Guinea.
The site is the drop-off at the eastern end of the fringing reef that runs parallel to the shore. Here nature has formed a bowl-shaped amphitheater that is swept by the predominant strong south-easterly currents from the Bismarck Sea.
Dive Chapman's when the current is slack and you would wonder what all the fuss is about… but if you are there when it's running, then you will witness the underwater world at its dynamic best!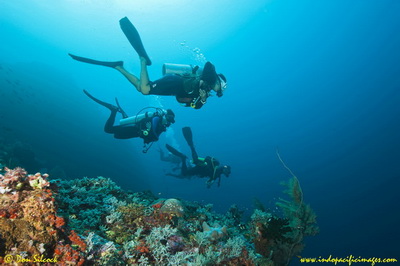 When the current is running the amphitheater fills with schools of barracuda, do-tooth tuna and jacks all feeding on the rich waters from the Bismarck Sea.
Grey reef sharks cruise in the blue looking to pounce and a family of giant Queensland groupers is known to frequent Chapman's…
Diving the site requires you to be comfortable with strong currents, something that only comes with practice.
The key to this is keeping away from the edges of the reef wall or the top of the fringing reef as the currents reach warp speed in those locations and will sweep you off the site.
But if you head for the center of the reef face the current's velocity becomes quite manageable and it's possible to relax and enjoy the show and the excellent visibility!
Chapman's Reef Image Gallery