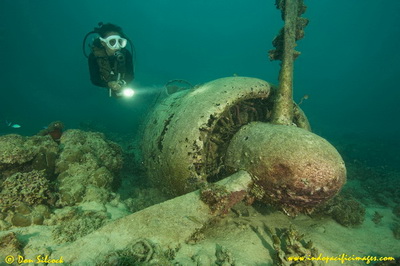 Lying on the seafloor just off the small island of Anelaua, near the much larger island of New Hanover, is the wreck of a Japanese "Kate" bomber.
The plane is in reasonable good condition, given its time underwater, and is relatively intact with its propeller still in place.
The wreck is located in a lagoon close to the island in only 10m of water.
Although virtually nothing is known about the history of the plane, it was probably put down there so the crew of three would be able to escape and swim to the island.
Whether the plane was shot down, or simply ran out of fuel, will never be known – but the lack of any bullet holes in the fuselage tends to indicate it was the latter…
Although an easy wreck to dive, the plane's location near the island means that run-off greatly reduces the visibility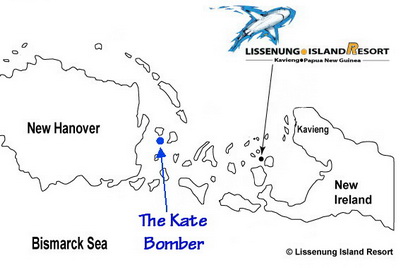 The arrival of a dive boat in the lagoon is the signal for the youths of Anelaua Island to paddle out in their canoes and offer their services as models on the wreck…
The "Kate" is actually a Nakajima B5N torpedo bomber used extensively by the Japanese Navy during WWII.
The Kate name comes from the way the Allied Forces identified Japanese aircraft during WWII – western mens names were given to fighter aircraft, women's names to bombers and transport planes, bird names to gliders and tree names to trainer aircraft.
Designed in 1935 the Nakajima B5N was technically obsolete by the time it saw service in WWII, but it still out-performed most of the Allied aircraft it came up against in the early days of the war.
A fleet of Kate torpedo bombers were used in the notorious surprise attack on Pearl Harbor in December 1941 and they played a major role in the destruction of the US Battle Fleet.
Kate Bomber Image Gallery