The Japanese midget submarine…
Located just 50m away from the wreck of the Sanko Maru. The submarine was literally stumbled upon by PNG diving legends Kevin Baldwin and Bob Halstead.
Halstead was diving the New Hanover area from his liveaboard the MV Telita and he and Kevin Baldwin had been diving the Sanko Maru. Baldwin decided to swim out from the wreck to see what debris was in the area. One can only imagine his delight when he swam straight into a Japanese midget submarine!
Baldwin found the submarine in excellent condition. Complete with its periscope and twin counter rotating propellers, but missing its torpedoes.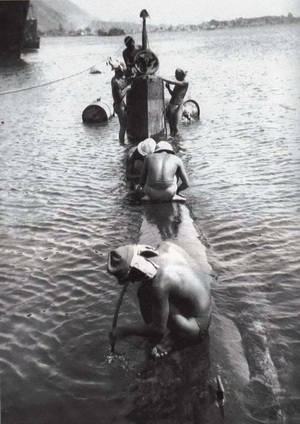 Significantly the main hatch on the conning tower was open. Reinforcing the theory that the crew had scuttled the submarine back in 1944. When the Sanko Maru came under attack by the B25's.
Ironically the limited visibility in the general area meant that the salvage divers who had plundered the Sanko Maru had missed what is probably the only diveable midget submarine in PNG, and possibly anywhere!
The Imperial Japanese Navy built a total of 76 midget submarines for combat use between 1934 and 1944.
Originally designed to be carried by larger Japanese ships. They were to be deployed in the path of an enemy fleet. Where they would disrupt its operations with torpedo attacks.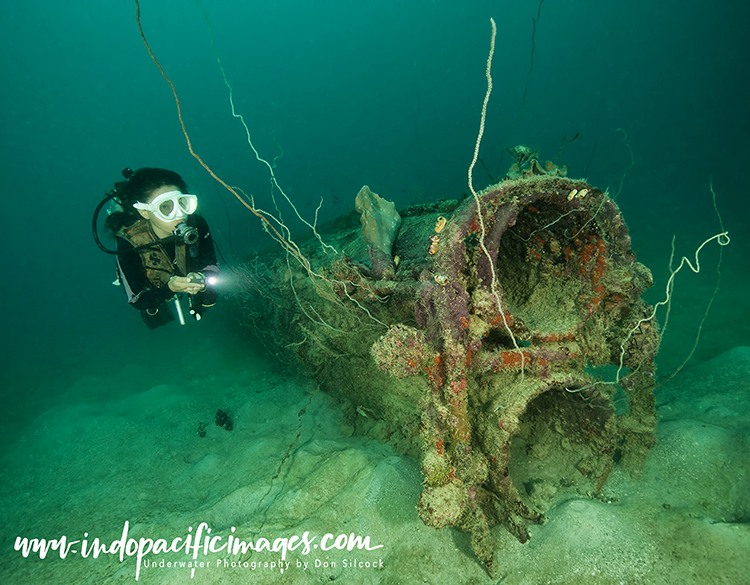 Japanese Midget Submarine – Special Operations…
During the Second World War, the midget submarines were deployed for special operations against ships in enemy harbors. Including the infamous 1941 surprise attack on Pearl Harbor and the 1942 raids on Sydney.
There were three versions of the submarine. With the original Type A displacing 46 tons and 78 feet in length, armed with two torpedoes and driven by battery powered electric motors. The Type A was capable of high speeds of up to about 20 knots, but with a very limited range.
The prototype Type B and production Type C submarines were fitted with a diesel engine to recharge their batteries.
Although no Japanese records on the Type C's survived the war. It seems clear that the Sanko Maru was probably the "mother ship" for the New Hanover submarine.
Diving the submarine is very easy as there is a thick rope laid out between it and the mast area of the Sanko Maru.
It sits bolt upright on the sandy sea bed in 22m of water. Both the conning tower and the twin propellers have become miniature reefs… Hosting a variety of marine life and sea whips, which make them very photogenic spots.