The Catalina wreck lays in 20m of water near the entrance to Kavieng's harbor. The remains of Royal Australian Air Force (RAAF) PBY Catalina A24-11, which crashed dramatically on the 15th January in 1942 after one of its wing bombs accidentally exploded.
PBY A24-11 was on a mission to attack the Japanese forces in Truk Lagoon. And had taken off from Rabaul with 6 other RAAF Catalinas. The planes landed at Kavieng, which was still under Australian control, to refuel before heading north into the Pacific.
Fully refueled, the planes started to take off again one by one. When it was the turn of A24-11, the plane hit a swell – causing one of the wing bombs to accidentally detonate! Killing the crew and causing the Catalina to sink rapidly.
The Catalina flying boat was developed by the US Navy in the 1930's as a long range patrol bomber. While rather slow and somewhat ungainly, they served with distinction during WWII! Both in the role they were designed for, and as a very effective way of rescuing downed airmen.
Their ability to land on water meant that they could be used to quickly rescue crews that had gone down in the Pacific. Catalinas are credited with saving the lives of thousands of aircrew during the war in the Pacific.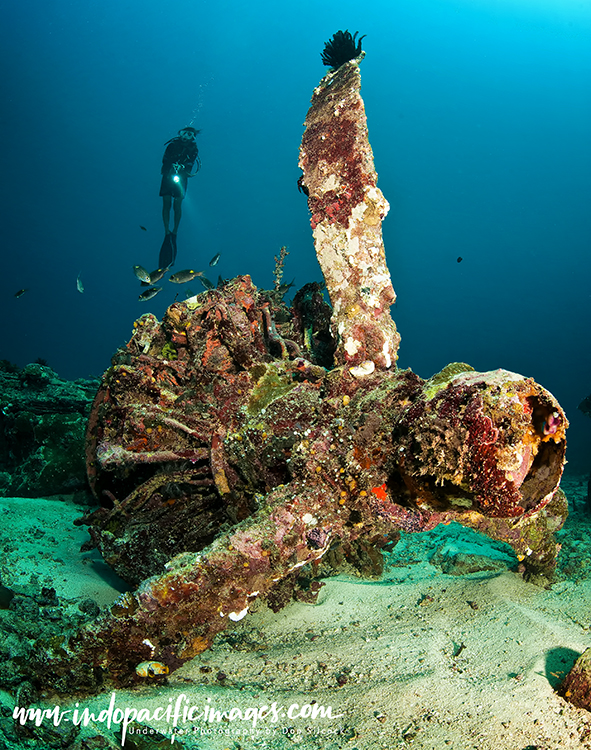 The RAAF ordered its first 18 Catalinas in 1940 and by the end of the war had taken delivery of 168 Catalinas.
The RAAF used its Catalinas in a range of roles… Including reconnaissance, anti-submarine patrols, offensive mine-laying as well as air-sea rescue.
They were also used to transport Australian personnel home at the end of the war. And the RAAF did not retire its last Catalina until 1952
Justin Taylan, the founder of the excellent Pacific Wrecks website has an interview with the late Nathan Gordon, who made four stall landings in his Black Cat PBY in rough waters of Kavieng Harbor to collect ditched survivors of the strike in 1944.
The Catalina Wreck
The wreck of the A24-11 was discovered in the early 1990's by the almost legendary Rod Pierce. Who also discovered the B17F Black Jack and S'Jacob wrecks.
What Rod Pierce found was the engines and parts of the aircraft such as the wing and landing gear in one main location – being the heaviest parts they sank to the bottom in the same location.
While the rest of the Catalina are distributed nearby as a result of the destructive force unleashed on the plane at such close quarters when the wing bomb exploded!
Located as it is near the entrance to Kavieng's harbor the Catalina is best dived on an incoming tide.