Kavieng Dive Operators & Logistics. Located at the eastern end of PNG, New Ireland is fairly remote from the main island of New Guinea and the capital Port Moresby. Which is currently the only international airport in to Papua New Guinea.
However it is well serviced by Air Nuigini. There are daily flights from Port Moresby, either direct in to Kavieng, or via Rabaul in neighboring New Britain.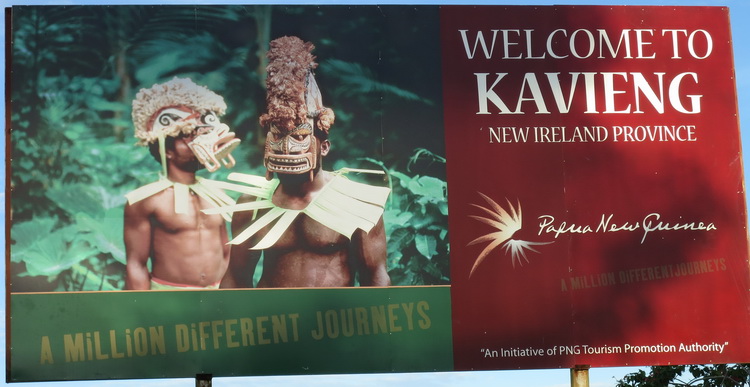 The flights are usually well-timed, particularly if you are traveling from Australia. With flights from Brisbane, Sydney and Cairns arriving in Port Moresby around 13.00. Which gives you a couple of hours before the onward flight to Kavieng – which lands there just before dusk.
Similarly on the return flight, this is usually an early morning departure from Kavieng. With the plane often already on the ground from the late afternoon arrival the previous day. Or it comes in from Rabaul… Either way you arrive in Port Moresby with plenty of time to make your afternoon international connection.
A very important concession that Air Nuigini makes to scuba divers is an extra 15kg baggage allowance. This is on top of the 30kg standard allowance. Meaning that you get a total of 45kg if you are coming in on an international flight. But make sure you ask for it!
Traveling domestically in PNG is never straightforward. Literally everybody seems to have at least one Air Nuigini story! But in it's defense the airline has always got me to my final destination. Possibly not on the day I intended, but none the less I got there.
Kavieng Dive Operators & Logistics – Lissenung Island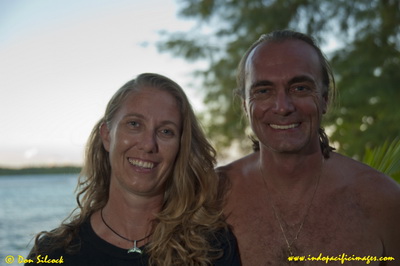 Lissenung is a small island about a 25 minute boat ride from Kavieng. Its location places it in an almost perfect position to adapt to the prevailing on the weather and tidal conditions. So you can quickly get to the dive sites on either the Pacific side, or on the Bismarck Sea.
Owned and operated by Dietmar and Ange Amon. Together with a team of locals they have recruited and trained from nearby Enuk Island.
Dietmar came to Kavieng from his native Austria in 1996 looking for an adventure. He certainly got one, as you will quickly realize if you spend any time talking to him about the early days. When he lived rough on the island building the first accommodation.
Those days are long gone and the resort is now very well established. However it is easy to spot all the nice touches that Ange introduced since she came to Lissenung in 2006.
The resort consists of seven ocean-front rooms in four thatched and woven bamboo traditional-style duplex bungalows. They are furnished with hardwood floors and large verandahs, and spread out over the island. The main lodge, or "haus win" is where all meals are served after preparation in the adjoining kitchen. The dive facility and office is nearby.
The diving day begins at 08.30 when the dive boats leave for a two tank morning. Returning for lunch back on the island around 13.00. The boats go out again for a third dive in the afternoon if required. But most people opt for the unlimited diving on the large house reef.
We cannot display this gallery
Lissenung Island Image Gallery
Kavieng Dive Operators & Logistics – Scuba Ventures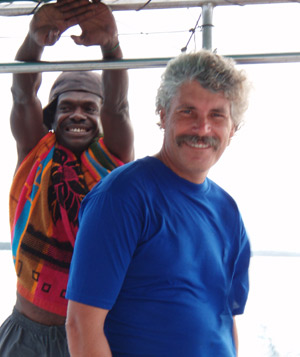 Scuba Ventures is based in "downtown" Kavieng near the main cargo wharf. It is run by South African expats Dorian and Cara who moved to New Ireland in 2000.
Scuba Ventures mainly work in conjunction with Nusa Island Retreat. Whereby guests stay at the resort on Nusa Lik (small Nusa) Island and are picked up for their day's diving by Scuba Venture's dive boat.
But they will also pick you up from the Malagan Beach Resort or the Kavieng Hotel.
Both Dorian and Cara are very experienced divers. They worked together previously in Mozambique and the Solomon Islands, before moving to PNG.
Dorian is credited with finding many of the Japanese WWII aircraft wrecks in Kavieng harbor.
Kavieng Dive Operators & Logistics – When to Go?
Kavieng can be dived all year round and the water temperature rarely falls below 28°C.
The rainy season is from December to February. So the run-off increases significantly during those months making diving on an out-going tide a low visibility experience…
But the incoming tides bring in clear waters from both the Pacific Ocean and Bismarck Sea. So good diving is still possible with local knowledge of the complicated tidal patterns.
The periods from April through to July and September to November are known for good weather and exceptional diving conditions.