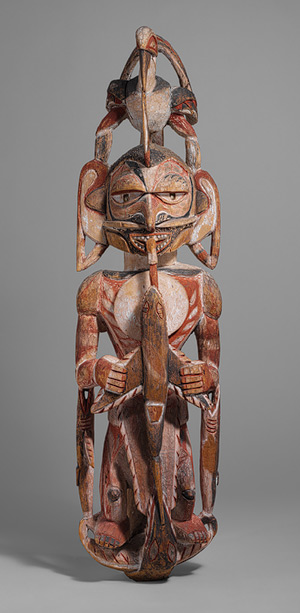 The Malagan carvings of New Ireland are internationally renowned and are to be found in some of the world's finest museums!
But Malagan is much more than a genre of carvings. It refers to an ancient and revered set of cultural practices and ceremonies. Which were once common throughout the area that is now the province of New Ireland.
The carvings, exquisite as they are, are actually only the conclusion of a complex set of funeral ceremonies that often can go on for months at a time.
Malagan culture refers to the northern New Ireland practice of honoring the deceased with special ceremonies. The purpose of which is to assist their souls to pass into the spirit world.
The term "Malagan" refers to both the actual ceremonies and the carved masks, figures and posts made for use in them.
Traditionally when somebody in New Ireland died, their body was buried. With the funeral being followed by a specific mourning period.
During that mourning period the mourners were painted black and they were not able to eat certain foods or carry out certain activities. The Malagan ceremonies were also planned during this time. But often those ceremonies would not take place for months or even years after the actual death.
The ceremonies were a way for the entire community to express their reverence for the deceased person. Furthermore, far from being a time of grief, were a festival for honoring the dead.
The Malagan carvings were a way of representing the deceased during the ceremonies. With the details of the carvings capturing the dead person's character and spirit.
The practice was discovered by early travelers to the area. During the German colonial period significant numbers of Malagan masks were collected by the area's administrators and sent to Europe.
Sadly, the Malagan culture has dwindled considerably… To the point where only the Tabar Group of Islands. Plus a few of the Nalik villages on the east coast of New Ireland mainland, are still observing the practices.
New Ireland's Malagan Images
While the funeral and post-mourning ceremonies are the most well-known. There are numerous other initiation rites and rituals that are integral to the Malagan culture.
Associated with those rites and rituals are specific Malagan images. Much as Western copyrights, individuals seek to acquire the rights to as they advance through the important stages of their life.
When they eventually die, the images the individual has collected are depicted in the Malagan carvings. Hence becoming a visual resume of the person's lifetime achievements.
Tribal Pacifika on Queensland's Gold Coast have posted a nice profile on PNG artist Bryan Paul that provides a nice overview of Malagan culture and explains the significance of the images.