Papua New Guinea's marine biodiversity is a very much a function of its location. Positioned as it is right in the middle of what is commonly referred to as the "Coral Triangle".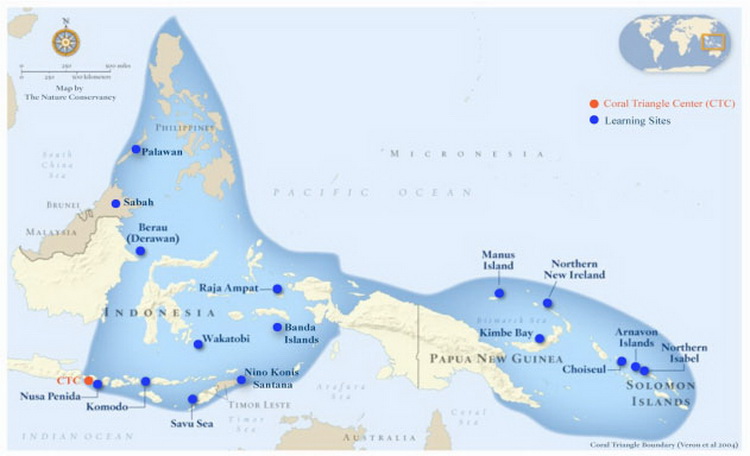 Generally considered by marine biologists as the global epicenter of marine species diversity. The Coral Triangle encompasses the countries of Indonesia, East Malaysia (Sabah), the Philippines and Papua New Guinea . Simply stated, it is the richest area of marine biodiversity in the world.
The area's biodiversity is simply stunning and is characterized by more than 600 species of coral and 3000 species of reef fish. To put those numbers into perspective… The Red Sea has around 200 coral species & 1000 fish species and the Caribbean 50 & 900 respectively.
For more information on the Coral Triangle check out the Nature Conservancy's dedicated site.
This incredibly rich marine biodiversity means that PNG offers some of the best scuba diving in the world. Significantly, in terms of exploring what it has to offer underwater, the surface has only really just been scratched…
Papua New Guinea's Marine Biodiversity – Why?
The reason for Papua New Guinea's marine biodiversity is the country's physical location. PNG's position at the eastern end of the vast South-East Asia archipelago means that it is subject to the effects of both the South Equatorial Current and the formidable Indonesian Throughflow.
The eastern provinces of Indonesia (West Papua/Irian Jaya, Halmahera, Maluku & North Sulawesi) owe much of their incredible marine diversity to the Indonesian Throughflow. The phenomenal flow of water from the Pacific Ocean in the north, to the Indian Ocean in the south.
Come the the north-west monsoon season, from December through to March each year. Papua New Guinea is also touched by the Indonesian Throughflow, with it's rich waters flowing down the north-east coast of the main island of New Guinea.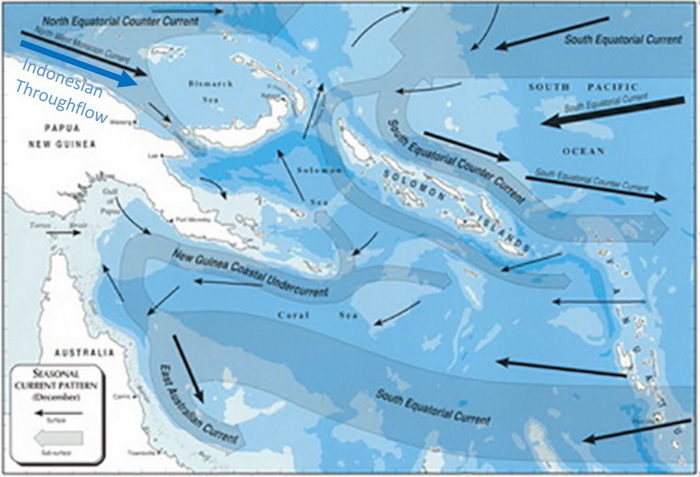 But the primary driver for PNG's marine diversity is the South Equatorial Current. Which results in the New Guinea Coastal Undercurrent, as shown on this map: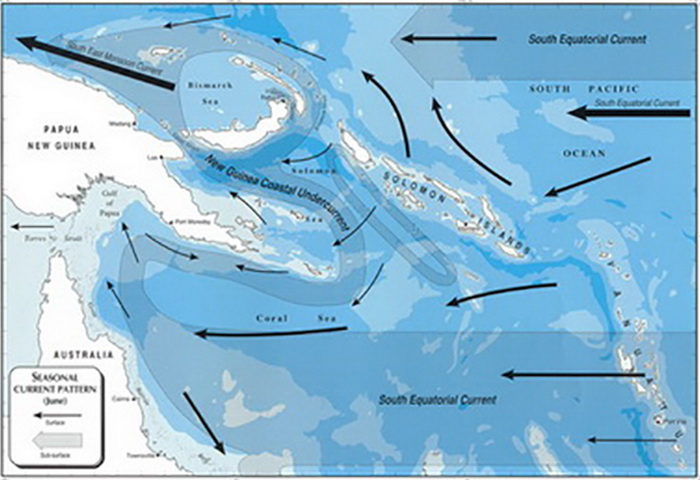 These massive movements of water, together with the high levels of tropical light and warm regional temperatures, produce the conditions that have created the incredible marine diversity of Papua New Guinea.