Tiger Sharks, Galeocerdo cuvier – these large and very impressive animals completely dominate the proceedings when they appear. For two reasons… their size and their reputation.
Their average size is 4m, but larger ones are quite common. And while that length, combined with their incredible stripes gives them a substantial presence. It is their girth that impresses most and they simply radiate power and strength in a way that only apex predators can.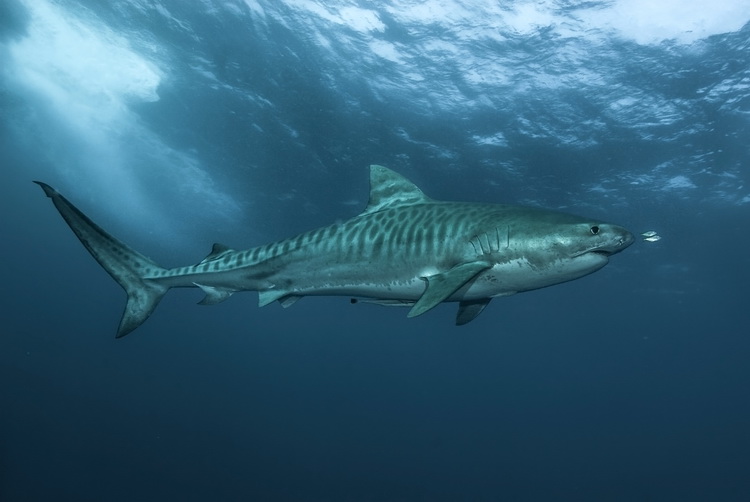 Combine that significant presence with their reputation as the second most dangerous shark in South Africa. And it is easy to understand why Tiger sharks command so much respect!
The Protea Banks is thought to be a breeding and birthing area for Tiger sharks. The main season to see them is from late February through to early June, but sightings all-year round are possible.
Tiger Sharks of Protea Banks – Are They Dangerous?
Tigers are rated as the second-most dangerous shark in South African waters – just behind the Great White. However they typically feed on fish and other sharks but are also well known for attacking turtles on the surface. And their large, extremely powerful, jaws are able to bite right through those tough shells.
It is this tendency for such stealthy, but devastatingly destructive attacks from below that has probably earned Tiger sharks their fearful reputation in South Africa. Such attacks on humans are more than likely mistaken identity, as opposed to specifically targeted. But because their jaws are so powerful the end-result is deadly.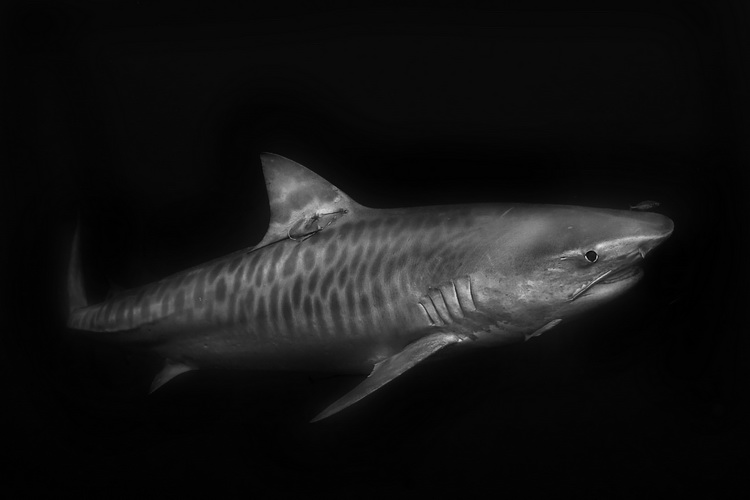 As with the Zambezi sharks, in-water encounters with Tigers at the Protea Banks come in two distinct flavors. Random ones on the bottom during the dive and on the baited dives.
The random encounters are exactly that and their intensity is entirely at the discretion of the Tiger sharks… they may come in close and check you out or simply ignore you. It's up to them, but typically they will give you at least a cursory inspection. Particularly so on the Northern Pinnacle as that seems to be a favorite spot for them.
Tiger Sharks of Protea Banks – Baited Dives
On the baited dives they are attracted by the scent of the bait box and patrol around it as if trying to understand the source… They will often wander off and disappear into the blue in one direction. Then reappear later from the opposite direction having checked out what is happening in the broader area.
Behavior that aligns with their position in the marine food chain as a truly apex predator. Which compares interestingly with that of the Oceanic Blacktips, who seem totally focused on the bait box and only that!
The Tigers have a formidable presence, exuding total confidence and mastery of their surrounding environment. Eyeball to eyeball encounters with them on the baited dives are incredible and an experience that will stay with you for many years.