Atauro Island Overview… Close, but so far – Atauro Island seemed to smirk at me the first time I saw it. Sat as it is somewhat majestically in the Ombai Strait, some 30 kms north of Dili. Right in the path of the Indonesian Throughflow as it streams between the main islands of Alor and Wetar. Rich with nutrients from the deep basins of the Banda Sea to the north.
That was back in 2010 when I first visited Timor Leste. Exploring the dive sites in and around the capital Dili and on the north coast to the east and west.
Diving Atauro had been on the agenda. As I had heard a lot about the migrating whales and pelagics often spotted around the island. But the sad fact was that the key ingredient necessary to dive there (a suitable boat…) was just not available.
So I concentrated on the many shore dives the north coast of Timor Leste has to offer. But, every morning as we headed out by road to explore those sites and on the way back every evening. Atauro seemed to quietly smirk at me…
It took another 4 years to actually get back there and dive Atauro!
Atauro Island Overview – A Brief History…
Sparsely populated and home to only about 10,000 people. Most of whom live in the two main villages of Vila and Beloi on the eastern side of the island. Atauro is about 25km long, from north to south, and has a total land-mass of roughly 140 sq kms.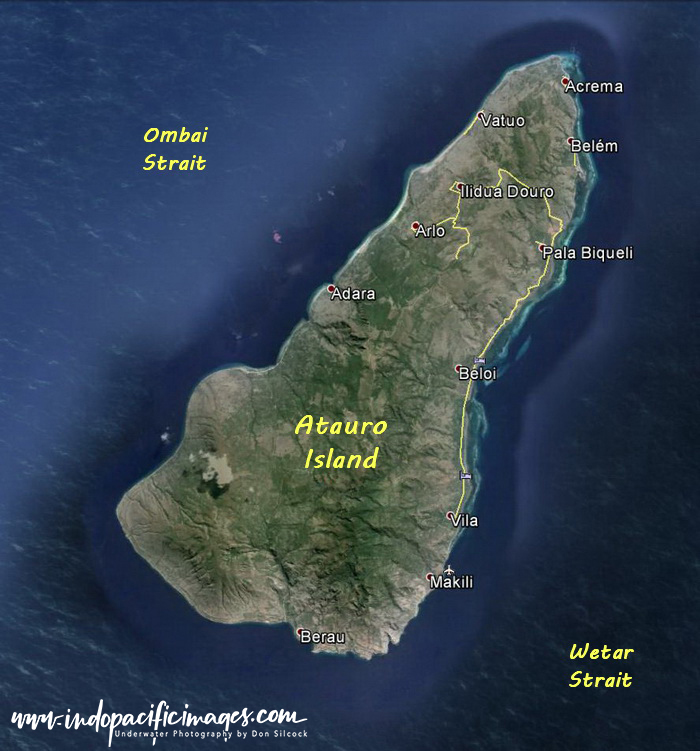 Most of Atauro's residents are subsistence farmers and fishers. Getting by growing annual crops of corn and beans, supplemented with fish, fruit and seasonal vegetables. The only real sources of cash income being the small but growing tourism industry. And the sale of fish, chickens or goats, and vegetables on market days.
Atauro Island Overview – Religion
Unlike the rest of Timor Leste, which is 98% Catholic, Atauro is predominantly Protestant. And it is said that the animism that strongly underpins Christianity in the country is particularly prominent on Atauro island…
Timor Leste's colonial rulers, the Portuguese, used Atauro as a prison island from the late 16th century. And criminals from other parts of their empire – incidentally the first truly global empire and the longest lasting colonial empire – were sent there.
Ironically, when civil war broke out in Timore Leste in August 1975. The Portuguese Governor and his administration fled for safety over to Atauro. In what became an ignominious end to 450 years of Portuguese colonial rule when they were later slipped away to Darwin on-board two Portuguese Navy frigates.
After they invaded in 1975 the Indonesians also used Atauro as a prison island. With an estimated 3000 East Timorese and their families held there between 1981 and 1986.