There are currently three scuba diving operators in Timor Leste – all based in the capital Dili as described below:
Scuba Diving Operators in Timor Leste – Compass
Compass Charters is run by Antony Crean, an Australian from Melbourne. Antony first came to East Timor (as it was then) in 2000 during the dark days following the August 1999 referendum.
The Indonesian President at that time B. J. Habibie had agreed to a UN supervised referendum. To decide on whether the Timorese wanted to stay part on Indonesia or become an independent country.
The result was a resounding vote for independence… Triggering an Indonesian military sponsored scorched-earth campaign of retribution. During which over 1,400 Timorese died and around 70% of the country's infrastructure, including homes, irrigation and water supply systems, schools and virtually 100% of the country's electricity generation & distribution system were destroyed.
Antony's job was working with the UN and the Peace Keeping Force (PKF) to ensure fuel supplies to their vehicles. If you like "war stories" from a first-hand perspective, spend a couple of hours listening to Antony's!
Compass was started in 2005 as an offshoot of the Tiger supermarket, service and fuel station. Somewhat of a Dili institution run by Antony's father Rob… Tiger is famous locally for staying open during some of Timor Leste's worst periods of post-independence instability.
Initially offering water taxi's over to Atauro Island, Compass is now a PADI Dive Resort. Compass also runs an ecocamp at Adara on the west coast of Atauro.
In March 2014 I spent 10 days diving the east and west coast of Atauro Island with Compass Charters. Finally realizing a personal ambition to dive those remote locations!
Check out Compass Charters website for more information.
Scuba Diving Operators in Timor Leste – DTL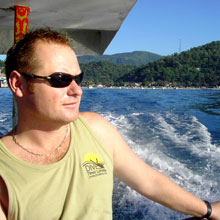 Dive Timor Lorosae, or DTL as it is usually referred to, is the dive operator I used on my first trip to Timor Leste. I found them to be professional and well organized.
DTL was started back in 2002 by Bali based Austalian Mark Mialszygrosz. Mark first went to Timor Leste in 2000 to assist with the rebuilding of the country's infrastructure after the bloody transition to independence.
He is an interesting guy to talk to and is very passionate about Timor Leste and its people.
Plus he has some great tales about the exploratory dives in the early days after independence. Diving places that simply had never been seen before!
Physically located right across from the beach on Avenida de Portugal, the main street of Dili, and very conveniently below the Castaway Bar. DTL is well equipped and now has a new Australian built 12m dive boat called the Zara Anne, so trips to both Atauro and Jaco Islands are now possible.
Check out Dive Timor Lorosae's website for more information.
Scuba Diving Operators in Timor Leste – Aquatica
Aquatica Dive Resort is located at the Ocean View hotel in a prime position at the end of Avenida de Portugal. Not far from Dili airport….
Australian owned and run, the resort offers PADI courses up to Divemaster plus local and regional dives and equipment hires.
I have not dived with Aquatica Dive Resort so I don't have an opinion on them, but you can check out their site on the link provided.