The wreck of the B-17F Black Jack lays undisturbed on a sandy seabed. In deep water just off the fringing reef from the remote village of Boga Boga, on Cape Vogel.
Many consider the Black Jack to be the best aircraft wreck in Papua New Guinea.
Black Jack, serial number 41-24521, was one of the first B-17F Flying Fortress bombers built at the Seattle Boeing factory during WWII.
The plane was delivered to the US Army in July 1942 at a cost of $314,109 and then flown to Australia to join the war in the Pacific.
Black Jack was then assigned to the 63rd Bombardment Squadron in Port Moresby.
It was from Port Moresby's 7-Mile Airdrome that Black Jack took off on the 10th July 1943. On what was to be its final flight and subsequent crash landing near Boga Boga. Its discovery 43 years later is like something out of an adventure novel.
---
The story of the Black Jack is a fascinating one. It starts in July 1942 when the completed plane was delivered to the US Army.
Assigned to Port Moresby in PNG with 63d Bombardment Squadron under Captain Kenneth McCullar – Read more…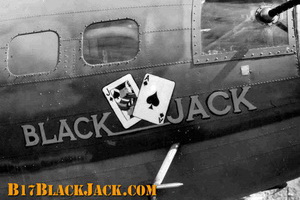 The discovery of the B-17F Black Jack wreck in late December 1986 reads like a story straight out of an adventure novel!
Three Australians were searching this remote area looking for a different wreck. When they almost stumbled on Black Jack – Read more…
The really special thing about the Black Jack is the fact that the plane is so intact. It's almost like diving on a set from a Hollywood movie.
The plane sits serenely on a sandy seabed in clear blue waters. With visibility that can easily reach more than 40m – Read more…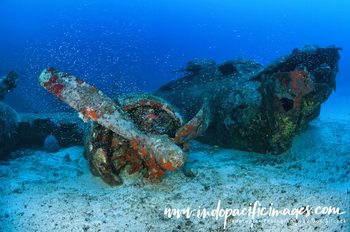 ---
The options available for Black Jack wreck dive operators are somewhat limited. In fact really there are only three options available now.
Tufi Dive runs trips to dive Black Jack and Golden Dawn also includes the wreck on some of its itineraries – Read more…
---
Nuigini Blue is the premiere water sports magazine in Papua New Guinea. They have published my articles many times.
This one is a in-depth, six-page, article on the B-17F Black Jack wreck called "Diving the Holy Grail" that you can download – Read more..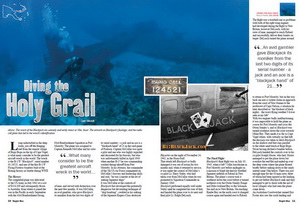 ---
X-Ray magazine is the only on-line dive magazine with a truly international focus and I have worked with them for several years.
Last year they published a comprehensive article I wrote on the B-17F Black Jack wreck that is available for download – Read more…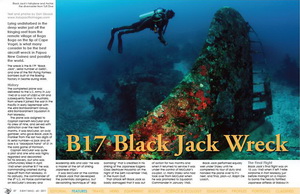 ---