There are two main Great White Shark cage diving operators to choose from in South Australia. Both have excellent reputations, but are focused on quite different market segments.
Great White Cage Diving Operators – Rodney Fox Expeditions

I have never met Rodney Fox, but I have read so much about him that I feel like I have…
Rodney is famous for narrowly surviving a savage mauling by a Great White Shark off Adlinga Beach, south of Adelaide, in 1963 whilst competing in a spear fishing competition.
The actual story of the attack and how he survived is both spine chilling and miraculous.
Add the fact that Rodney was back in the water spear fishing just three months later. Going on to become an Australian champion the following year is nothing short of incredible.
Rodney's full story is one you that simply have to read as it is just incrdible!
Rodney was one of the pioneers of cage diving with Great White Sharks. And has probably done more than any other individual to educate people about them and the need for the their conservation.
He now runs his expeditions from Port Lincoln with his son Andrew Fox aboard their boat the Princess II.
Unlike other Great White Shark trips, where the shark cage floats on the surface and hookah breathing systems are used. Rodney and Andrew Fox offer an option called "Ocean Floor Diving" whereby the scuba is used and the cage is lowered to the bottom.
Website: www.rodneyfox.com.au
Great White Cage Diving Operators – Calypso Star Charters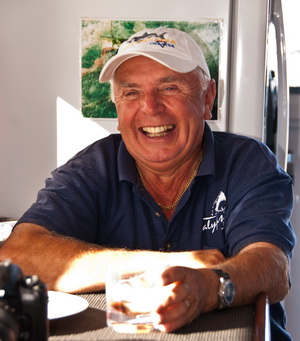 Originally started by Rolf Czabayski in the 1990's using a 35' Bertram boat. Rolf saw the potential for a larger, custom built, vessel and invested in the 57 foot motor cruiser Calypso Star. Which he had built in Perth in 2000 and then transported to Port Lincoln.
Rolf is the original "poacher turned gamekeeper" who used to hunt Great Whites as a champion big game fisherman. But he had a change of heart and is now truly passionate about the conservation of these unique animals.
He is also a wonderful character with a great line in stories that kept us amused and entertained for hours…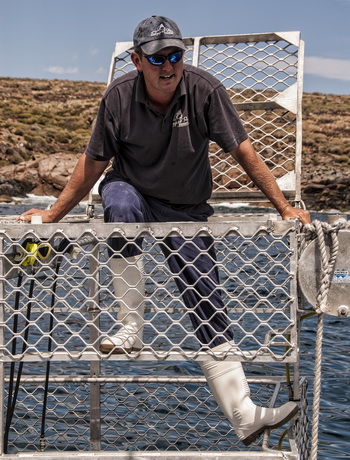 Rolf retired back in 2006, selling the business to a Port Lincoln consortium including Andrew Wright.
Andrew started on the Calypso Star as a deckhand and is now both the general manager of the business and the captain.
He is a great guy and a terrific shark wrangler who helped me get my best Great White images!
Most of the Great White Shark trips I have done have been on Calypso Star and were four day trips for 8 people. Which is the number of berths on board the boat…
Since the change in ownership the focus has moved to one day charters with a much larger number of people on board. www.sharkcagediving.com.au
Great White Cage Diving Operators – When to Go?
The big question… There are no guarantees when it comes to seeing Great White Sharks. They grace you with their presence. However June through to September is generally considered as the optimum time to see them. But they have also been seen regularly in March & April and as late as September & October.
The June through to September period coincides with when the seal pups start to feed themselves. Which means that they leave the shelter of the shore and venture out to hunt. And makes them prime targets for the Great Whites…
Great White Cage Diving Operators – How to Get to Port Lincoln?
Port Lincoln is on the western side of the Spencer Gulf and about 40 minutes flight from Adelaide. It is well serviced by both Regional Air Express (REX) and QantasLink from Adelaide.