Surface Cage Shark Diving… The first time in the cage is a pretty intense moment. Thoughts of what could go wrong fill your head, as you desperately try not to make a fool of yourself. But the reality is that it is all very safe. There is just no way the authorities would allow it all if it wasn't!
Surface Cage Shark Diving – Well Built…
The actual cage consists of two large sealed stainless steel tubes to provide flotation and an attached box. The box is big enough for four large people and is made from the aluminium mesh normally used for the security screens found on house windows.
There are two open viewing areas, one at head height and the other at knee height. Both are big enough to poke your camera through. But small enough to prevent an over-enthusiastic shark from entering.
Before entering the cage, you need to be heavily weighted so you don't float around in it. And either a special weight harness, or multiple weight belts, are used. The harness tends to concentrate the effect of the heavy weights on your shoulders. Which quickly becomes uncomfortable, so I personally opt for the multiple weight belts.
If there is any real danger associated with cage diving it is wearing those excessive weights while entering and exiting the cage. Because if you slipped and fell into the water you would sink like a stone!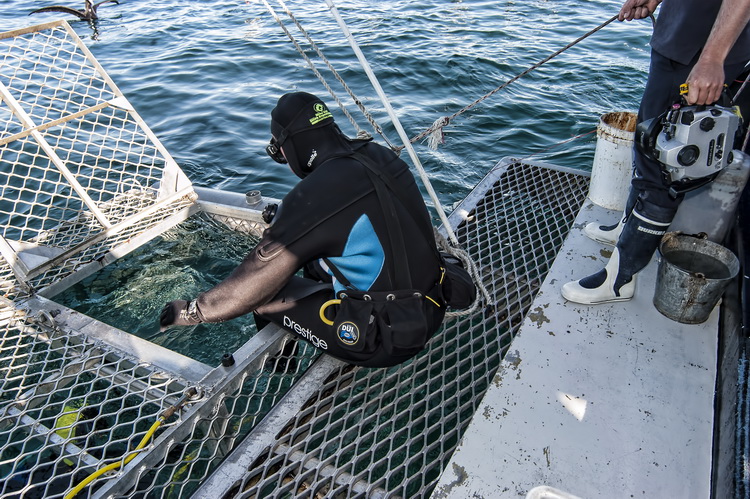 The cage is fitted with hookah regulators supplied from the boat, maximizing the available space. Scuba tanks are only used in the ocean floor cage.
Surface Cage Shark Diving – In the Cage…
In all but the calmest seas, actually being in the cage is not the most comfortable of experiences. Because you tend to be buffeted around as it bobs around on the surface of the water.
Add to that the cold temperatures and the burley in the water, which you can taste through the regulator… You get the picture – but all that discomfort simply evaporates when the sharks come in to the cage!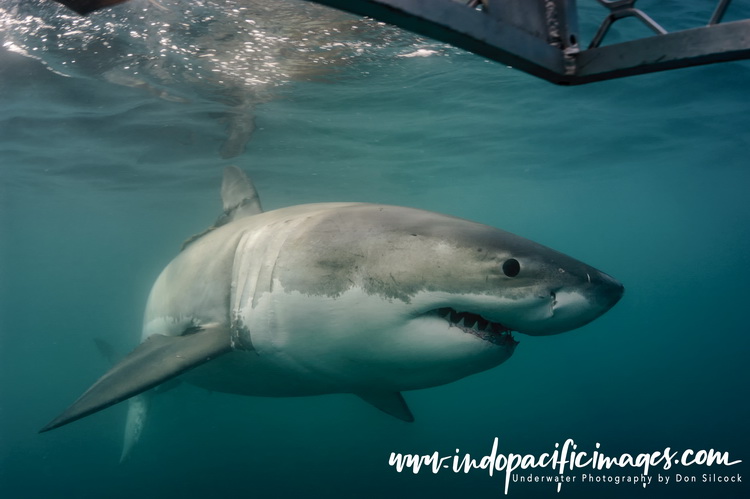 Simply stated, being in the water with a Great White Shark is one of the most exciting big animal adventures. Seeing them in their own environment allows you to fully appreciate how much they have mastered it. Truly they are the "apex predator".
Their two-tone coloration makes them very difficult to see when viewed either from above or below. But when you do see them it's clear to see the sheer brute force they possess.
They seem to move through the water as if self-propelled, almost like a submarine. But when alarmed or excited a flick of their powerful tail thrusts the large streamlined body forward at quite amazing speed.