ONEUW One160X Strobe Review… This is a first impressions review of my personal experience with this new Italian strobe. As explained below, I bought the strobes myself through my diving buddy and fellow underwater photographer Filippo Borghi. And the purpose of this review is to share my initial experience with some new and really excellent technology.
ONEUW One160X Strobe Review – The Background…
It's no secret that Italians are, by nature, passionate and enthusiastic people… So when the first message arrived from my great friend Filippo Borghi extolling the virtues of the new strobes he had been testing – quite frankly I took it all with a pinch of salt!
But the messages kept on coming! So, I tried putting it all down to the fact that these new strobes were made in Italy and Filippo was just being patriotic. Still the messages kept on coming. And it seemed that we simply MUST buy a pair each for our upcoming trip to South Australia to photograph the Leafy Seadragons and Giant Australian Cuttlefish!
The last thing I needed at that point in time was more strobes for my already considerable collection. But Filippo prevailed and before I could say Ciao I was sending him a not insignificant amount of money. Fast forward to the 1st of June and Adelaide airport as we meet up to start our epic road trip around South Australia. And I am reassured as Filippo assures me that the "babies" are safe and sound in his suitcase!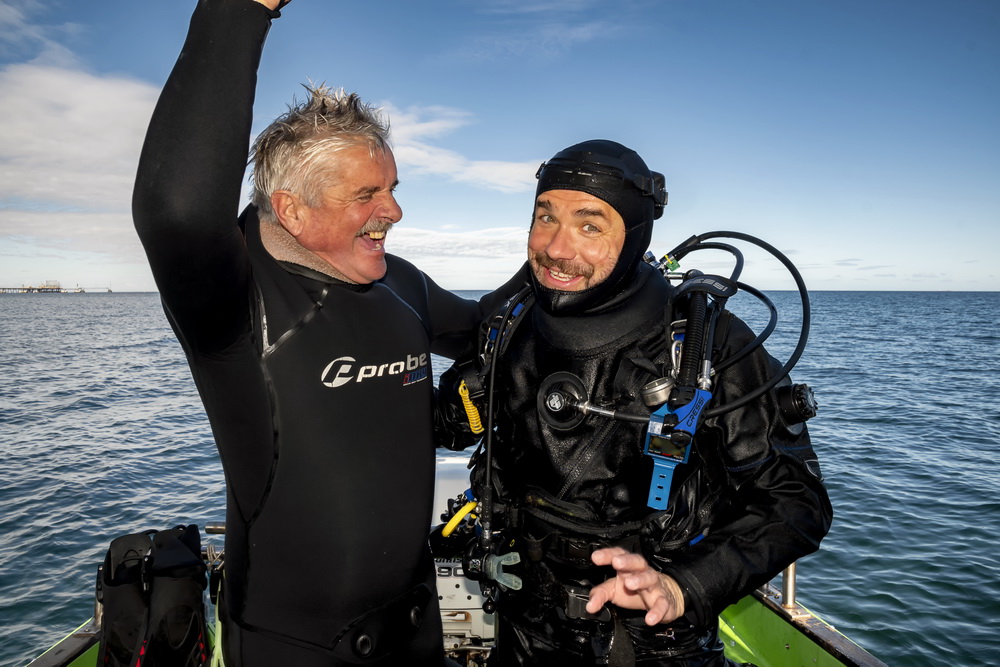 ONEUW One160X Strobe Review – First Impressions
It is very clear when you first see the ONE160x strobes that they certainly appear to have been very well made. Everything about them looks really good.
My background is mechanical engineering, so well-made stuff automatically catches my attention. But I have to say that all the things I had "invested" in through Filippo really did look great when I inspected the babies for the first time!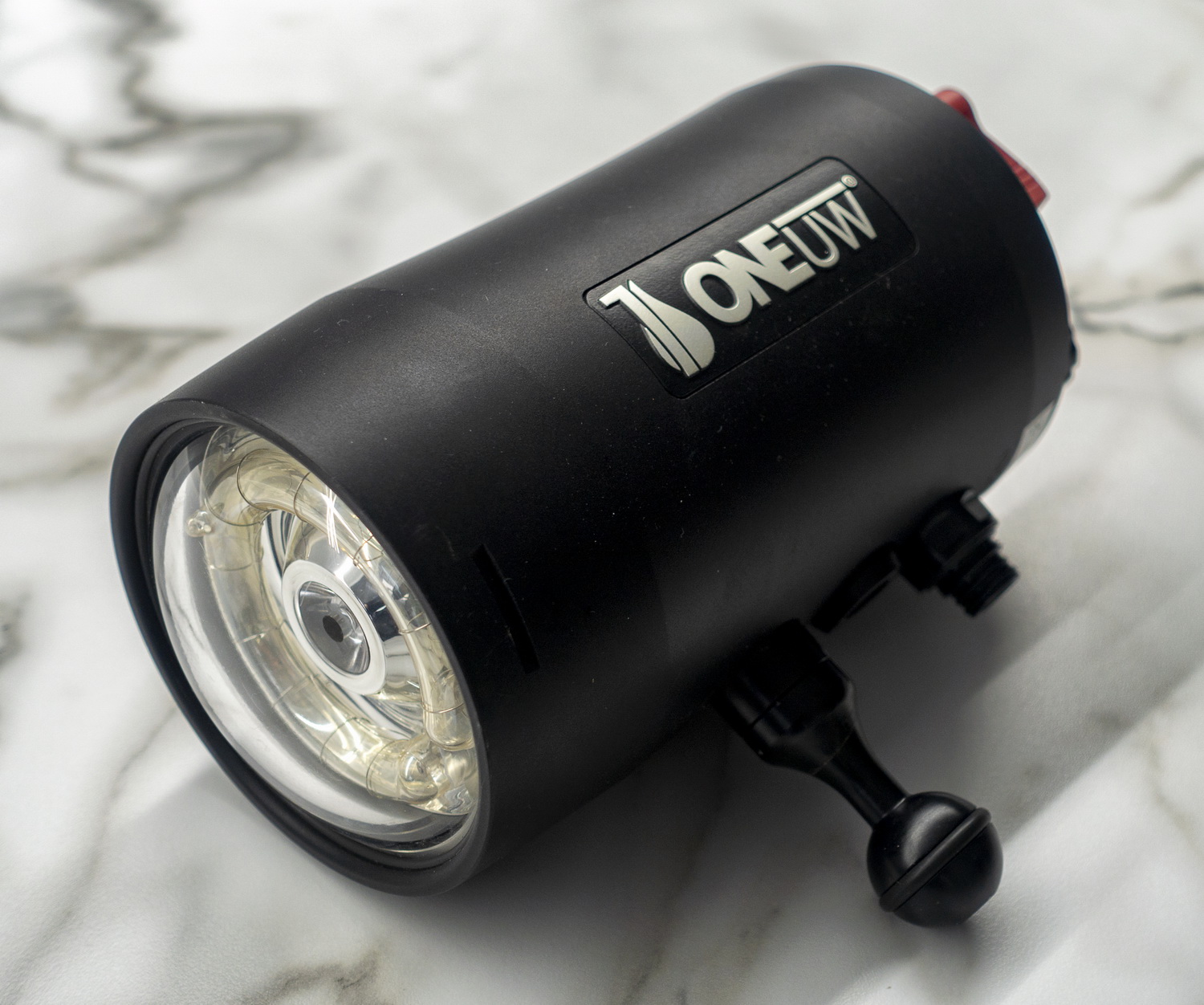 The attention to detail apparent in the design, manufacturing and delivery of what I had bought was very impressive. From the neoprene covers on the strobes themselves, not to mention the ones for the dome elements and those for the batteries. The additional O rings on the special strobe cables. The locking mechanism on the battery cover to the actual black finish on the strobes themselves, it all said quality.
But I have to say that as good as it all looked, memories of my youth in the UK and that wonderful Alfa Romeo that I was so proud of many years ago disturbed my sleep patterns the first night in South Australia… Like my new strobes, that Alfa was the most incredible piece of engineering I had ever owned. But man… it nearly bankrupted me trying to keep it on the road!
ONEUW One160X Strobe Review – In the Water
I used my new strobes every day for the next 15 days as we explored the wonderful jetties of South Australia. And then immersed ourselves in the incredible spectacle that is the annual aggregation of Giant Australian Cuttlefish at Whyalla. Here is what I took away from that experience:
Reliable: Despite my early concerns about repeating my out-of-body Alfa Romeo experience, both strobes and all their auxiliary equipment were 100% reliable. And as the days passed my level of confidence kept on rising. To the point, I have now consigned the Alfa back into history…
Easy to Use: I found the strobes intuitive and really easy to use. Turning them on is very simple, even in the cold waters of South Australia, and adjusting the power setting was equally easy and quick to do. The LED power setting indicator can be inverted so that it is the right way up when the strobe is the other way around… But even when it's upside down it is still easy to read.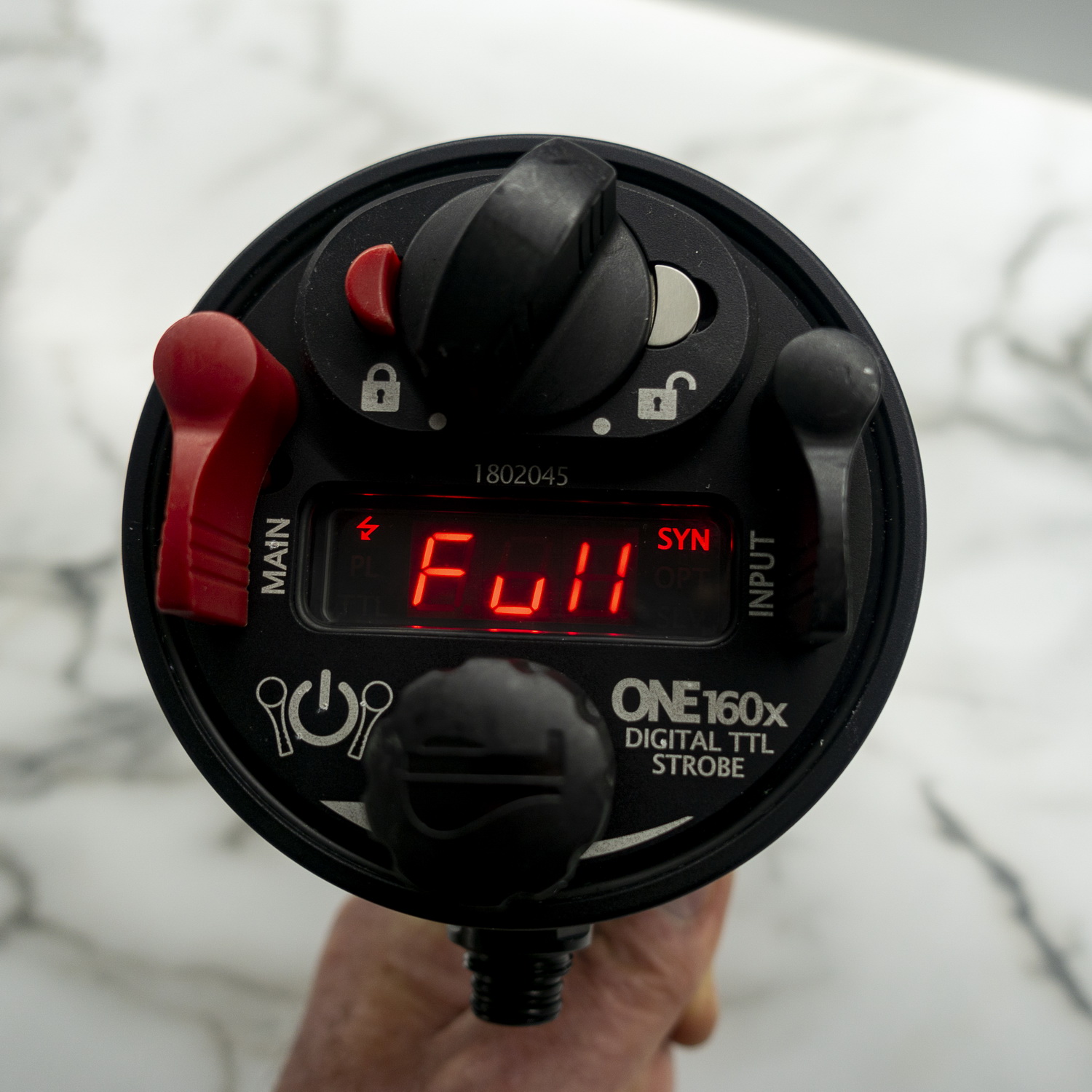 Powerful: The One160x strobes have a Guide Number (GN) of 20. Which would seem quite low when compared to other units on the market which claim GN's of 32. But as the owner of a numerous strobes I have learned that you need to look a little bit deeper than what is listed under "specifications…" In my experience, what really matters with strobe power are two things: The power in the center of the beam and the power at the edges. Interestingly ONEuw provides details for that with a GN of 20 at the center and the same at 90° with 18 at 110°and finally a GN of 16 at 130°. What that means is that rather than concentrating the available light in the center (and claiming a higher overall GN…). The light is very evenly distributed with only minimal fall-off at the very edges. Which translates into tremendous usability underwater because there are no hot-spots or dark patches!
Blue Water: The optimum color temperature for underwater is widely considered to be 4600°K. And many strobes state that is what they output. But the One160x strobes are the first strobes I have ever used where I could see a visible difference. This was one of the things that Filippo got so excited (Italian?) about in his messages, but it was hard for me to judge from a distance. However, I was simply stunned when I looked at my first images. The straight out of the camera backgrounds were unlike I had ever experienced before!
Quality of the Light: The One160x strobes come with a domed plexiglass front element, so there is no need to use diffusers. I am not privy to the physics behind the design. But what I can tell you is that the light from the strobes produces what I can only describe as a 3D effect. The even distribution of the light and the domed front element illuminate the subject superbly. Making it stand out against the background – which is also well lit, but subtly so and the overall impact is incredible.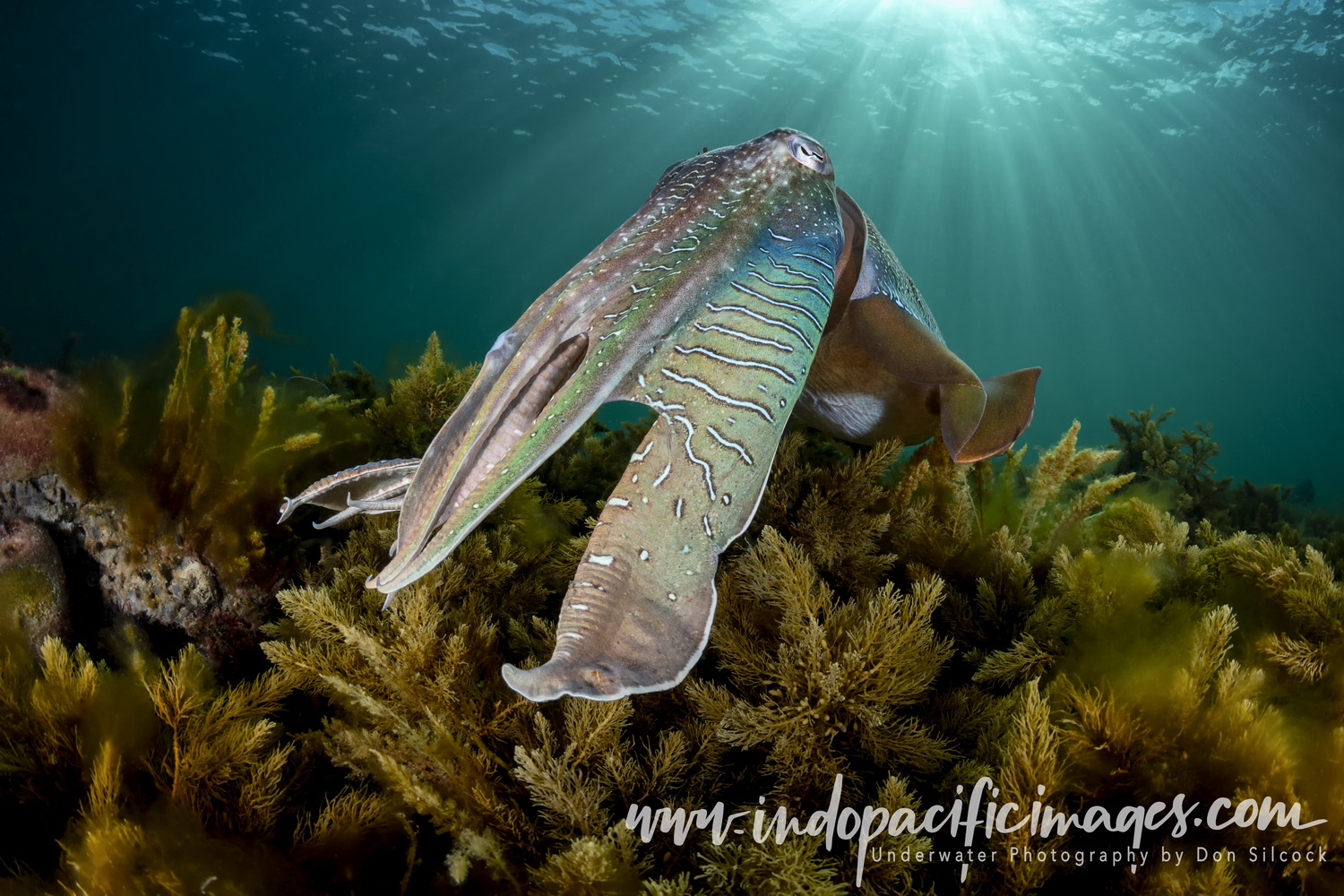 Backscatter: Underwater conditions in South Australia can vary a great deal, depending on the weather and tides. So we were often diving in conditions where I was expecting significant backscatter. To my intense surprise, when I reviewed my images each evening, while it was clear that we had not been diving in gin clear water… But the amount of actual backscatter was relatively minimal, given the overall conditions, and was quite manageable in post. The image below is an unprocessed JPEG conversion of RAW Leafy Sea Dragon image.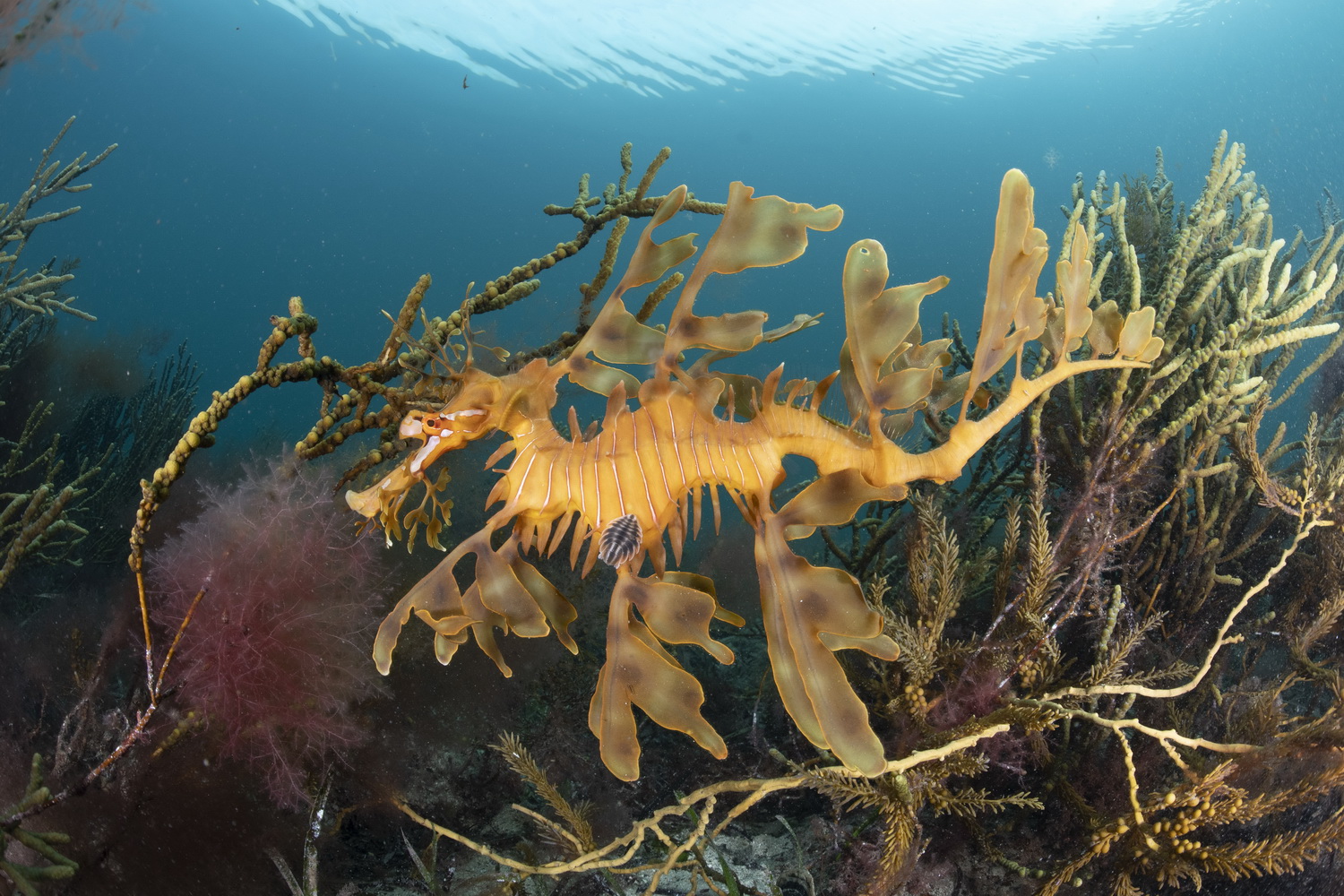 I found this quite amazing as I was using the same technique I always use. With strobes well back behind the housing handles and angled out slightly. Again, I am not privy to the physics but I believe that the domed front element plays a major role in this. Shown below is a 100% crop of the top left corner of the unprocessed JPEG and the lack of backscatter!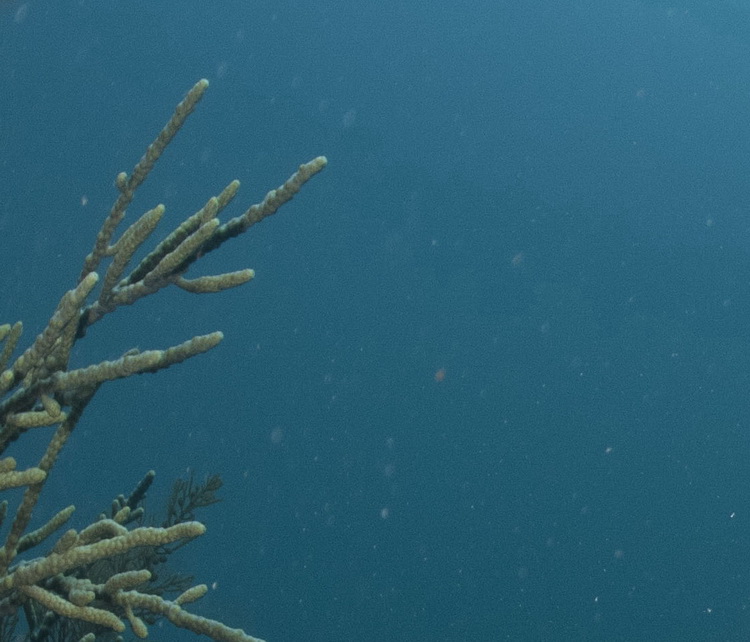 Battery Life: Both Filippo and I opted for an extra set of two batteries. We figured that we would surely need them in South Australia… But we didn't – once! Rated at "over" 250 exposures at full power, we would finish long days of diving with plenty of power still left. Plus, the battery chargers are both small and powerful so recharging rarely took more than a couple of hours.
ONEUW One160X Strobe Review – What Does Good Look Like?
With the two new One160x strobes I am now the owner of 16 strobes! Yes, I know… but I have a reasonable excuse as I live in two places (Sydney and Bali – it's not as grand as it might sound) so I have gravitated to having sets of gear in both places.
For general wide-angle and travel I use Ikelite DS160 strobes. And for "big animal" photography I use Sea & Sea YS250 strobes. While for macro I use Inon strobes. None are perfect, but my benchmark for overall power, beam coverage, recycle time, reliability and durability has been the YS250's. And I have four of the monsters – two in Sydney and two in Bali.
The really great thing about the YS250's is the way they can illuminate big animal subjects (albeit at about ¼ to ⅓ power) at the 10 fps capability of my Nikon D500. I appreciate that you probably don't need that capability so often. But when you do – you really need it! The BIG question in my mind once I got back from South Australia was could the One160x strobes replace my YS250's and DS160's?
Physically they are a bit smaller and lighter than the Ikelites and seem like miniatures compared to the YS250's! So, I decided to test the One160x against the YS250's…
ONEUW One160X Strobe Review – Power Testing
Here is how I did my testing:
D500 Settings: Manual exposure, same settings throughout and 10 FPS for 10 exposures.
One160x Setting: 10 frames @ 10 FPS with the strobes set at -6 stops, -5 stops, -4 stops, -3 stops and -2 stops… Batteries fully charged.
YS250 Settings: 10 frames @ 10 FPS with the strobes set at ¼, ¼ to ½, ½ and ½ to Full power… Batteries fully charged
Obviously not an exact correlation on the strobe power settings. But I typically use ¼ power with the YS250's and big animals and I get very reliable exposures at 10FPS. However, I have never actually tested the performance before. What I found when I did test was that at ¼ to ½ power setting the YS250's were able to recycle and fire consistently for the full 10 frames. See below…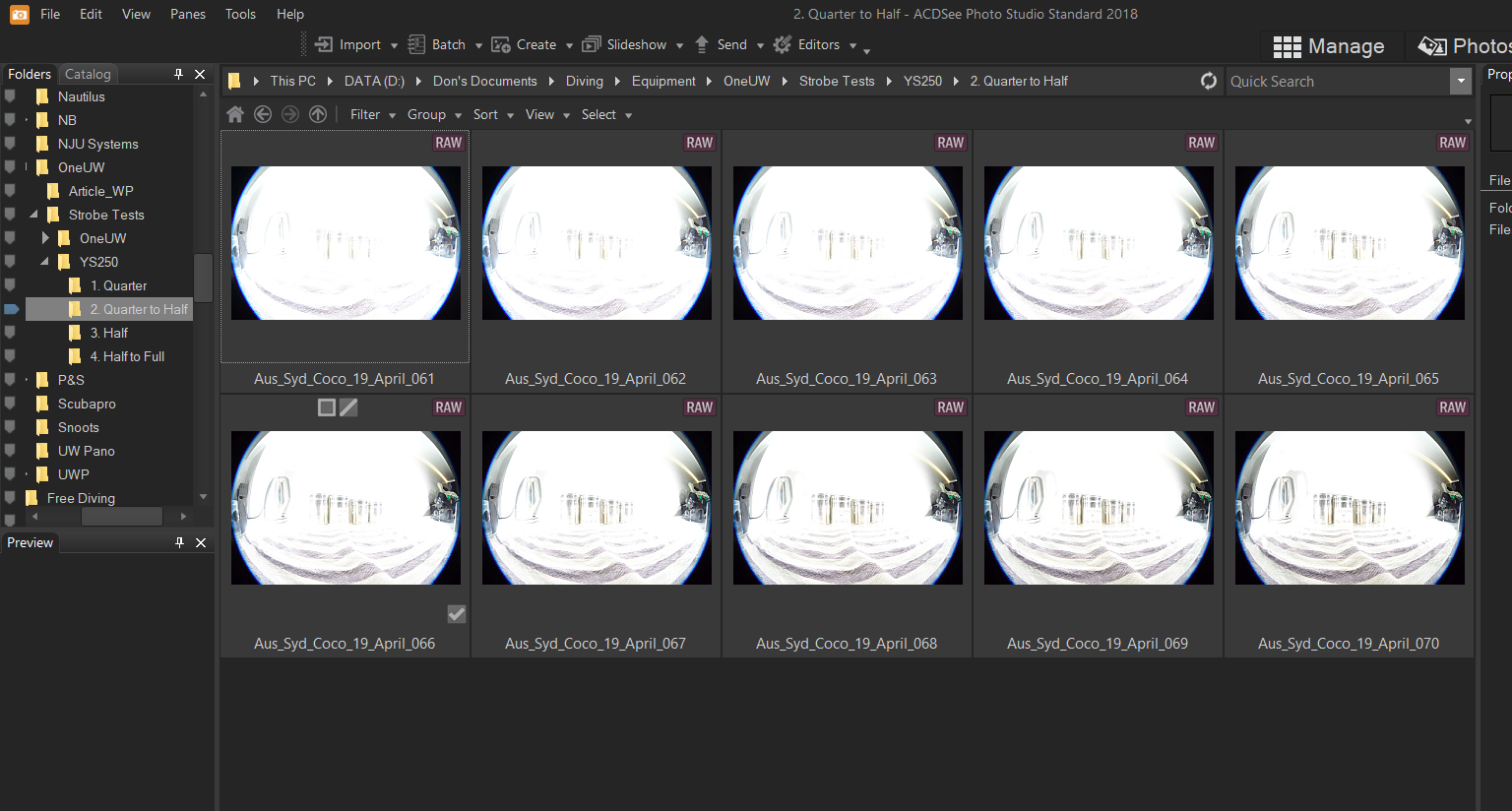 At ½ power on the YS250's they were able to recycle and fire consistently for the first 8 frames. Then there was a slight reduction in power on the last two frames – see below…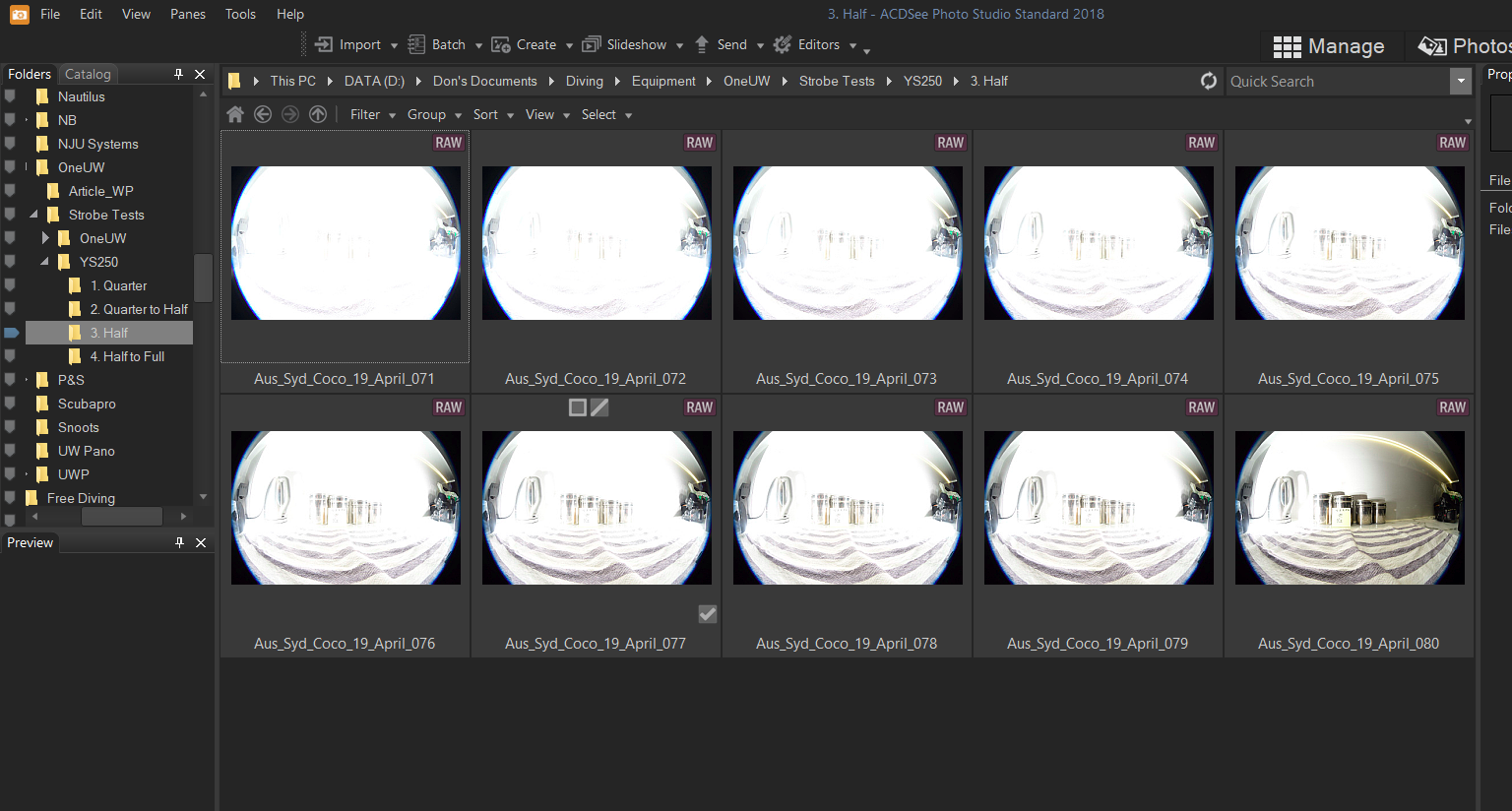 At ½ to Full (¾) power every third exposure was dark with the YS 250's unable to recycle in time, so two out of three frames were good and the third was not.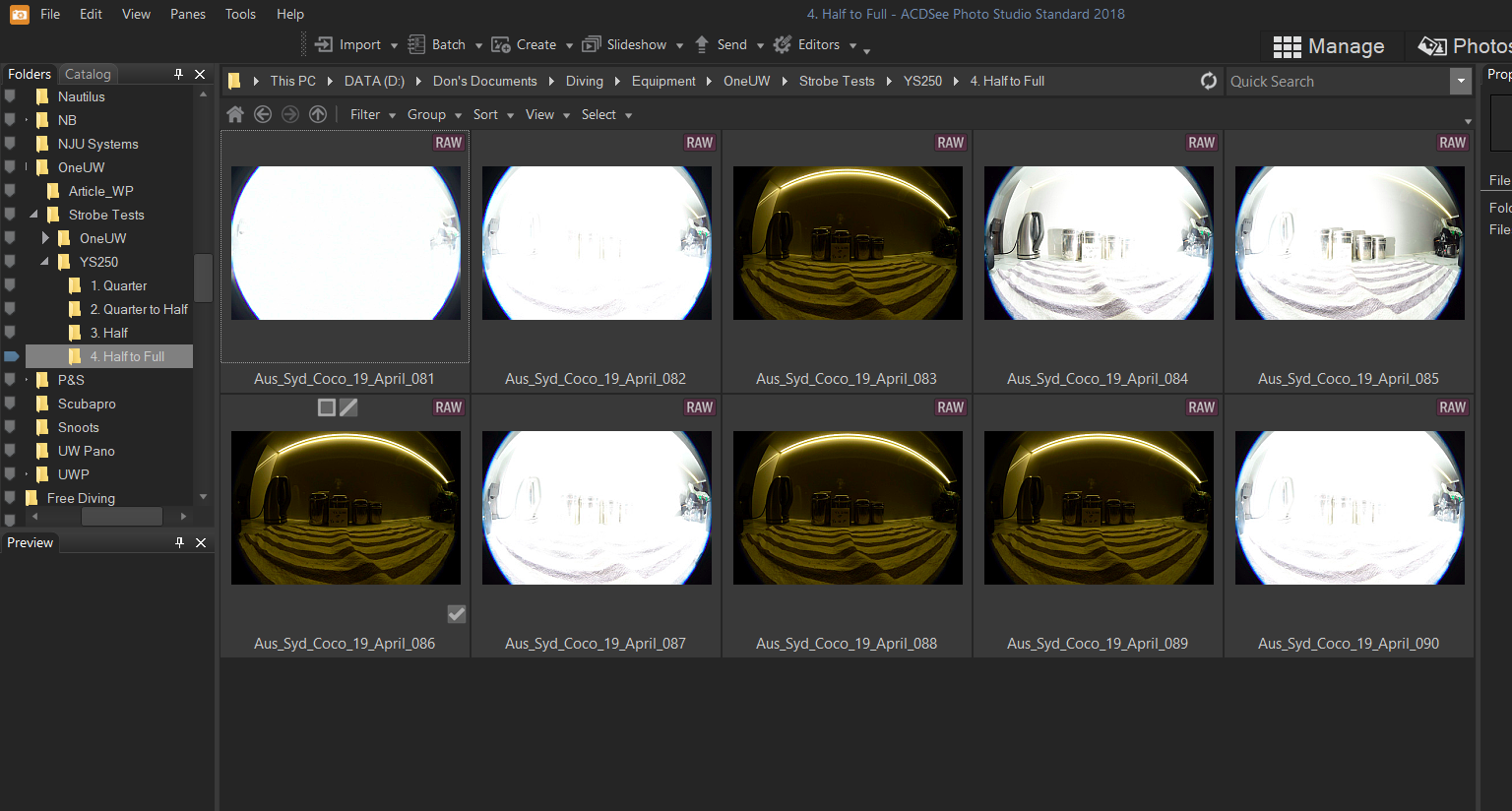 On the One160x strobes, they were able to recycle and fire consistently at 10 FPS until I got to the -3 stop setting. See below @ -4 stops…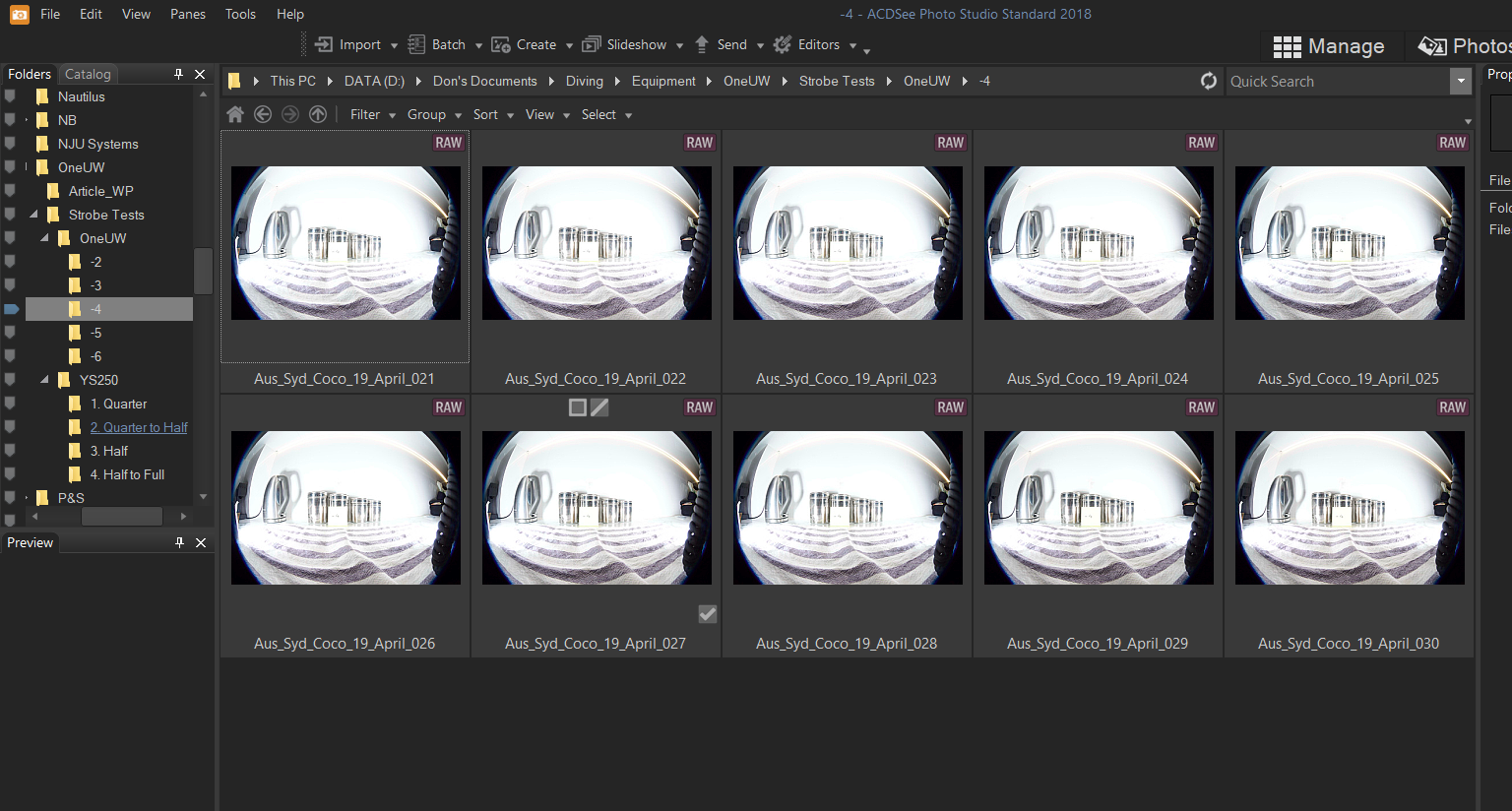 The -3 stops setting is half power in my calculations and the first 5 frames fired consistently. Then frames 6 and 7 showed a slight reduction in exposure. Frame 8 did not recycle and frames 9 and 10 were almost back to firing consistently. See below…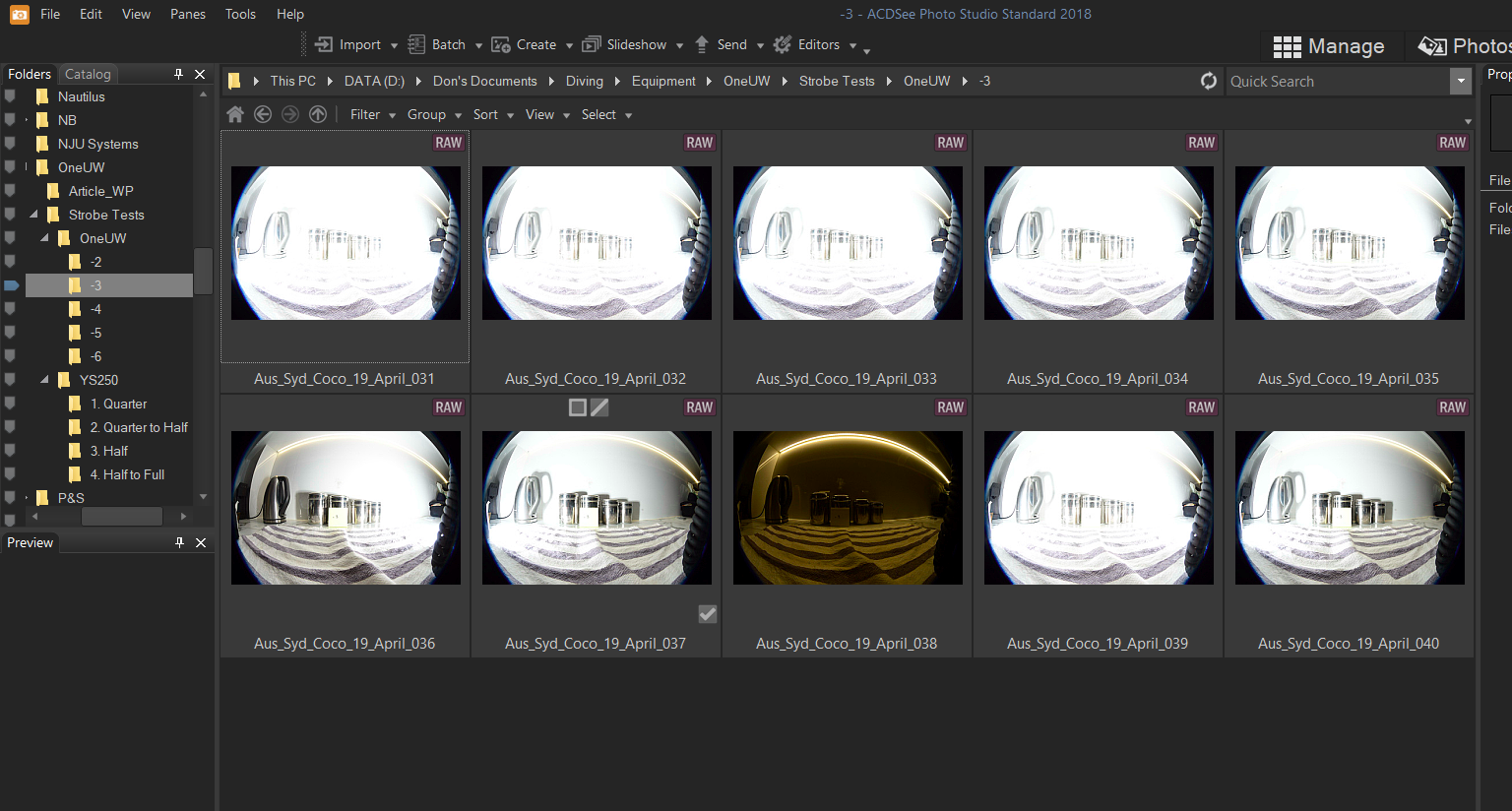 At the -2 stops setting on the One160x strobes the first 2 frames fired consistently. Then frame 3 showed a reduction and frames 4,5 and 6 did not fire. Frame 7 fired, but not fully and frames 8,9 and 10 did not fire.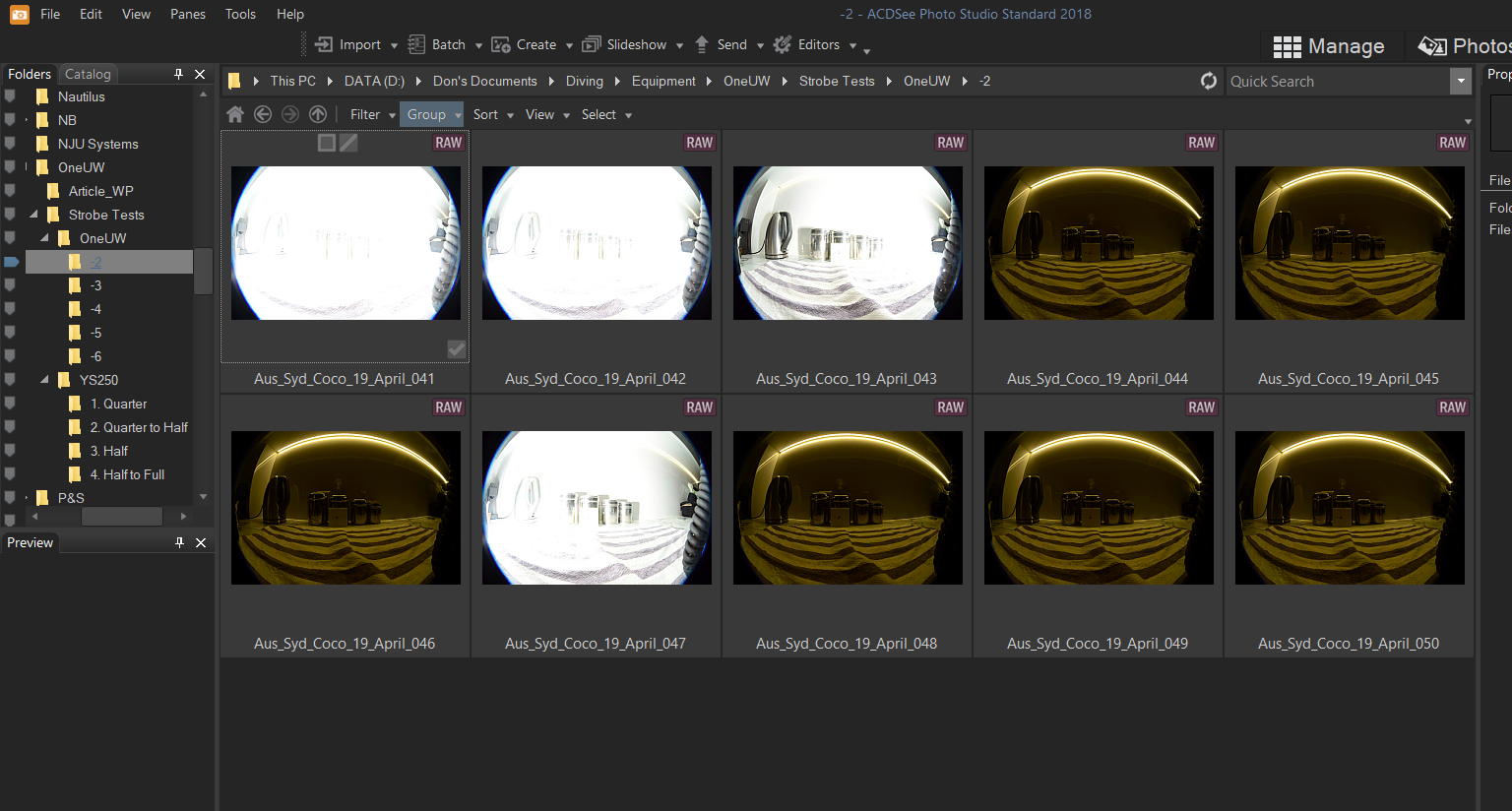 So… the way it looks to me are that the YS 250's just begin to falter at ½ power, but are very consistent below that. While the One160x's are also very consistent up to their half power settings. And then also start to falter but more so than the YS250's.
Which effectively indicates that both strobes are reasonably equal in overall power. Both able to keep up with high frame rates when kept at a ¼ or even ⅓ setting.
ONEUW One160X Strobe Review – Overall Conclusion
The overall experience with the One160x strobes was a revelation to me! And I have to say it… Filippo was 100% correct!! The ONEUW One160X strobe is an incredible device. One that opens up all sorts of creative opportunities that I simply did not have before.
Several other European strobes are firmly positioned at the top end of the market. I have no personal experience of any of them. So I cannot offer an opinion apart from the fact that I have always choked at the last minute when looking to buy them…
So, what am I going to do? Well, I am going to keep a pair of YS250's and a couple of Inon's. Then sell the rest and spend the proceeds on a second pair of One160x's.
Why? Well as the saying goes, don't spend your money on a new camera – buy better water to dive in. I am going one step further and I am going to buy buying better light!