The Complete Guide to Diving New Ireland… Considering a trip to this very pleasant, slightly remote but quite special part of Papua New Guinea? Use the sections and links below to understand more about New Ireland province. Together with its culture, some of its characters and of course diving New Ireland!
The province of New Ireland is located at the far eastern end of the Bismarck Archipelago. It basically forms the eastern flank of Papua New Guinea. With the Pacific Ocean on its eastern side and the Bismarck Sea to the west.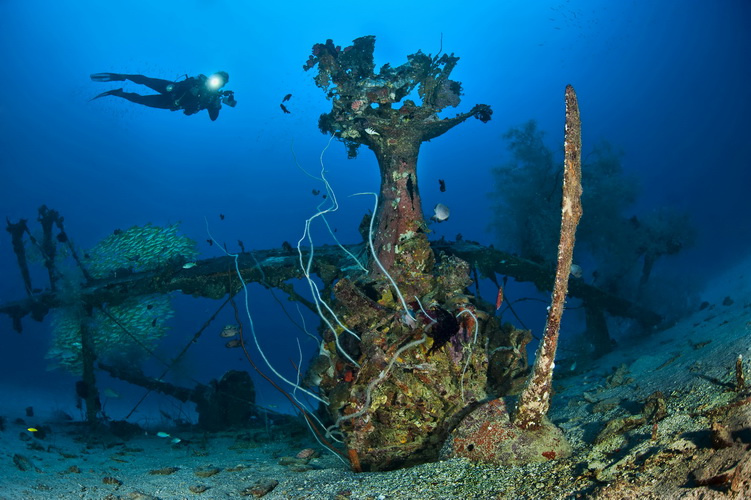 The province consists of the large, musket-shaped, main island of New Ireland and numerous other smaller islands. The largest of which is New Hanover.
New Ireland province is renowned for its fabulous Malagan carvings and unique traditional culture.
Diving New Ireland is centered around Kavieng, which is the main town in the province. Located on the northern tip of New Ireland, Kavieng is also the provincial capital.
Among divers Kavieng is known for its wrecks, big currents, interesting reefs, schooling pelagics and clear blue water.
Diving New Ireland is quite different from the other main locations in Papua New Guinea. Premiere PNG locations like Milne Bay and Kimbe Bay offer incredible bio-diversity and phenomenal scuba diving.
New Ireland is simply different – in a really nice way! There is indeed much to offer underwater – shipwrecks, WWII aircraft wrecks, walls, channels, reefs and schooling pelagics. Above water Kavieng and New Ireland in general is a pretty, but quiet place with an interesting colonial and WWII history. Use the sections and links below to learn about New Ireland, its culture, some of its characters and of course its incredible diving!
---
---