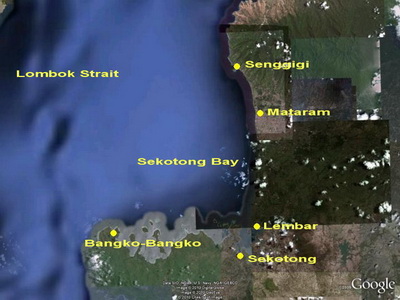 On the southwestern coast of Lombok is a very large bay that offers a degree of protection from the strong currents of the Lombok Strait.
Starting up at Senggigi and sweeping all the way round to Cape Bangko-Bangko on the tip of the peninsular that juts out into the Lombok Strait.
The southern edge of the bay is centered on the small town of Sekotong and the area from the port of Lembar to Bangko-Bangko is known as Sekotong Bay.
It's a very pretty, but still largely undeveloped area with beautiful white sand beaches, small picturesque islands and turquoise water – picture postcard perfect!
The diving in Sekotong Bay was pleasant, but not spectacular and I saw a reasonable selection of Indo-Pacific creatures at the various sheltered sites around the islands in the bay.
But the closer I got to Bangko-Bangko, the more challenging the conditions became, as the impact of the Lombok Strait current make its presence felt.
Sekotong Bay Image Gallery