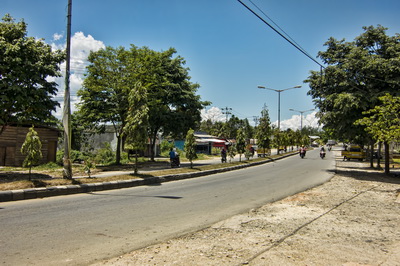 Sorong is the second biggest town in the West Papua region and supports a population of about 125,000 people, most of whom are transmigrants from other parts of Indonesia.
The town is the main supply base for the the local logging and oil & gas industries, plus the many liveaboards that operate in the Raja Ampat area during the main diving season.
Not the most picturesque of places, when you first arrive feels a bit like the end of the world – but after a couple of weeks out on a liveaboard, or a remote resort, it seems to resemble downtown Manhattan…
As the major town in Raja Ampat its major redeeming features are that it has two large supermarkets which stock quite a variety of stuff – including batteries and local chocolates (if you have a sweet tooth).
There is even a photographic section which stocks some cameras and lenses, plus memory cards, but don't expect to find high-end equipment.
Diving Indonesia: Raja Ampat and things do in Sorong – Early morning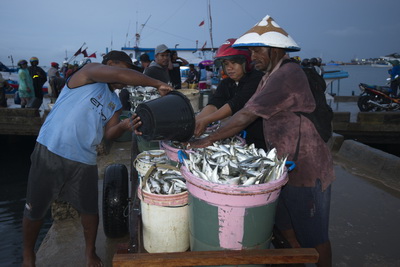 If you have a day to kill in Sorong there are a few interesting places to see and fill your day – starting with a very early morning visit to Pasar Jimbutan Puri.
Pasar is market in Bahasa and Jimbutan Puri is where the local fishing boats bring in their overnight catch.
The boats arrive early, so you need to be there before 05.30 or you will miss most of the action as the catches are unloaded on to the dock and then hauled to the nearby market.
It's all pretty frenetic, because this is a key part of the local economy in full swing – but everybody is friendly if a little bit puzzled why a foreigner would get out of bed so early to take photos…
By about 07.30 it's all quiet again and it is time to head back to your hotel for breakfast!
Diving Indonesia: Raja Ampat and things do in Sorong – Mid Morning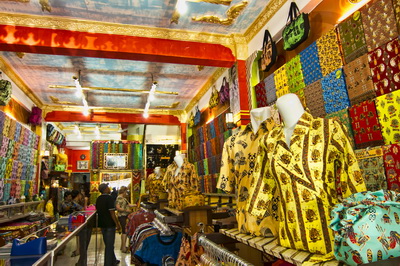 Mid morning is a good time to check out two quite special things to buy in Sorong.
The first are the Batik shops which sell the local varieties of the cloth and clothes made out of it.
Batik is very traditional in Indonesia and is sold in 2.25-metre lengths so it can be used sarongs and dresses etc.
It is also used for certain ceremonies such as weddings and funerals, but as a fashion statement has lost its street cred with young Indonesians.
Not my cup of tea personally, but I am told by those who know these things that the batik sold in Sorong is quite good quality if you buy from the right shops and its patterns are quite distinctive.
There are several batik shops in Sorong and your driver, or taxi driver, will probably try to get you to the one where he will get a commission from if you buy.
So ask your tour operator if you can, but failing that try Aneka Batik which is the one I visited on my last trips to Sorong and they seemed to have a good selection and reasonable prices.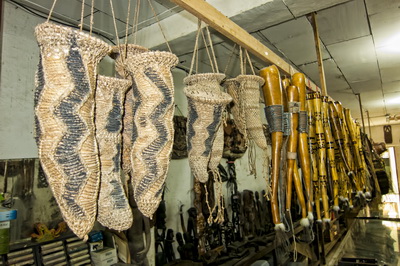 The other Sorong highlight, and my personal favorite, is Irian Jaya Arts & Craft which stocks a good selection of tribal masks and other artifacts – plus an excellent selection of penis gourdes!
The perfect gift for the man who has everything…
Called a koteka, they are traditionally worn by males in many highland tribes throughout New Guinea to cover their genitals.
They are typically made from a dried out gourd, such as a pumpkin or cucumber, although other materials are often used.
Different tribes have their own designs and they can be quite distinctive and some tribes have a double gourd, the second of which is used for carrying small items such as money and tobacco.
Diving Indonesia: Raja Ampat and things do in Sorong – Late Afternoon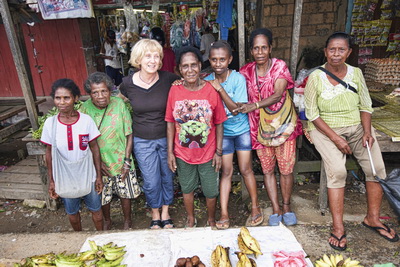 Late afternoon after the intense heat of the day has receded is a good time to visit another market – this time Pasar Boswesen.
There is a bit of everything at Pasar Boswesen and on one side of the road that runs through it, is a fish market on stilts above the water.
The people running the stalls in the fish market clearly do not get a lot of foreign visitors and there is a lot of friendly joking and general banter as you walk around.
On the other side of the road are fruit and veg stalls plus all the general stuff found in most Indonesian markets.
It's a friendly and interesting place and well worth a wander round for an hour or two. The only caution being watch the traffic on the road as it's a busy place and you can end up in the way…
Diving Indonesia: Raja Ampat and things do in Sorong – Early Evening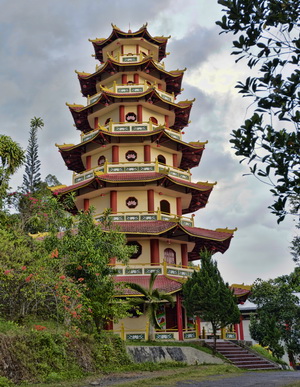 You would probably never know it was there unless somebody told you, but perched high on a hill overlooking Sorong is a beautiful Buddhist Temple.
Like most things, once you know about it you look for it, and the temple is a real landmark in the town – particularly from the harbor looking back at Sorong.
Built by the Chinese community in Sorong the temple is a great place to end the day and watch the sunset as it commands what is probably the best place in town to watch the sun go down.
It's a peaceful place and pleasant to wander round.
Just behind the main pagoda, which by tradition is used to store sacred and important artifacts, is a pathway up to the top of the hill where the actual temple is.
There do not appear to be any restrictions to you wandering around but, as in any place of religious significance, respect is the order of the day.
As sun goes drops below the horizon, and the lights of Sorong are turned on, the town looks a whole lot better than it does during the day…
It's almost pretty and I never thought I would say that about Sorong!