The Complete Milne Bay Scuba Diving Guide… A comprehensive guide to help you plan your trip to this incredible area of Papua New Guinea. Milne Bay is what put PNG on the radar of traveling divers and underwater photographers the world over. That was way back in the 1990's – but the diving is still as good as it always was!
Milne Bay offers everything from black sand critter sites to manta ray cleaning stations. Simply stated, it is a tremendous place to go scuba diving!
Milne Bay scuba diving was pioneered by Bob and Dinah Halstead with their liveaboard dive boat MV Telita. Liveaboards were just coming in to vogue about then and they not only launched the first one in PNG. They built it locally using traditional methods and local craftsmen.
Bob Halstead published numerous articles detailing their adventures pioneering Milne Bay scuba diving. Those articles caught the attention of divers around the world… Turning Milne Bay in to a really hot global dive location!
They also made MV Telita very well known!
A lot has changed since those days, but the diving in Milne Bay is still as good as ever. And the marine biodiversity of the area is simply amazing.
But Milne Bay, and the larger province of the same name, is a big area. Which can be rather confusing if you are not familiar with it all…
To simplify matters the links below will take you to a selection of pages. Those pages provide an overview of specific aspects, areas and well-known dive sites of Milne Bay.
The Complete Milne Bay Scuba Diving Guide is probably the most comprehensive single source of information on scuba diving in Milne Bay Province. It is based on my travel and adventures there over the last 19 years. If you don't find what you are looking for I am good to answer questions through the Contact page . But please read the pages first….
---
Excellent reefs, superb critter sites, cruising pelagics and mantas. What a combination, but the bay is a big place and the diving varies.
The northern area has great variety with its reefs and critter sites. While in the south there are lots of critters AND mantas – Read more…
There are really two Milne Bays… The large bay on the south-eastern tip of PNG that was a major Allied base during WWII.
Then there is the much larger province of the same name. Occupying a total area that is roughly 10% bigger than the UK! – Read more…
The north coast has some tremendous diving. Which ranges from stunning offshore sea mounts to black sand critter diving.
While the seamounts can be spectacular. The coastal sites also offer superb coral reefs and hard to beat diving – Read more…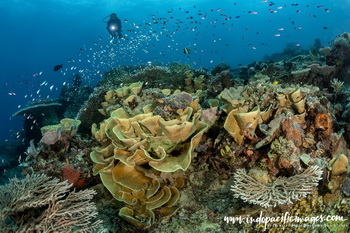 ---
Lauadi is a small village on the north coast of Milne Bay. It's a pretty place, with lush vegetation and a black sand beach.
But what makes Lauadi special is the incredible variety of critters that can be found in that black sand just off the beach – Read more…
---
Located on a headland not far from Dinah's Beach at Lauadi is one of the best dives on the north coast of Milne Bay – Deacon's Reef.
Huge gorgonian fans, coral trees, schools of anthias, bright red sea whips & barrel sponges all in just 12m of water – Read more…
---
The discovery of the manta ray cleaning station at Gona Bara Bara island is one of those classic Papua New Guinea diving stories!
The site is Giants@Home. And it's one of the most reliable places in all of PNG to see and often interact with manta rays – Read more…
---
Samarai Island jetty is another of Milne Bay's signature dive sites and is one of those places you can spend many hours exploring.
For in the accumulated debris underneath the jetty are lots critters – making it one of the best critter dives in Milne Bay – Read more…
---
Probably not everybody's idea of fun. But how often do you get to stand in the darkness surrounded by dozens of human skulls?
The skull caves are well worth a visit and they are a good way to spend a non-diving afternoon at the end of a trip – Read more…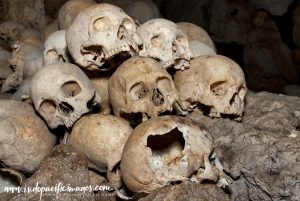 ---
Located at the eastern end of the main island of New Guinea. Milne Bay is only about 350km as the crow flies from Port Moresby.
Flying is the only option as the one road on the south coast stops roughly half-way to Alotau at a village called Kupiano – Read more…
---